NetApp nails 11PB Oz supercomputer storage deal
Unconventional 57,472-core system is Raijin, but no bull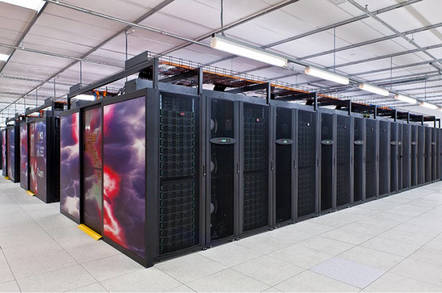 NetApp is supplying ONTAP FAS, E-Series and EF-Series arrays to boost data capacity and access for Australia's NCI Raijin supercomputer.
NCI is Australia's National Computing Infrastructure organisation and the Raijin system "is a Fujitsu Primergy high-performance, distributed-memory cluster."
It comprises:
57,472 cores (Intel Xeon Sandy Bridge technology, 2.6 GHz) in 3,592 compute nodes
160TB of main memory
Mellanox Infiniband FDR interconnect
10PB of usable fast filesystem (for short-term scratch space)
Storage is DDN SFA12000 Hardware RAID 5 couplets, each with 840 disks
Peak performance of approximately 1.2 PFlops
Aggregate SPECfp_rate_2006 of 1.6M
Raijin is said to be the Shinto God of thunder, lightning and storms. We might just call it Raging.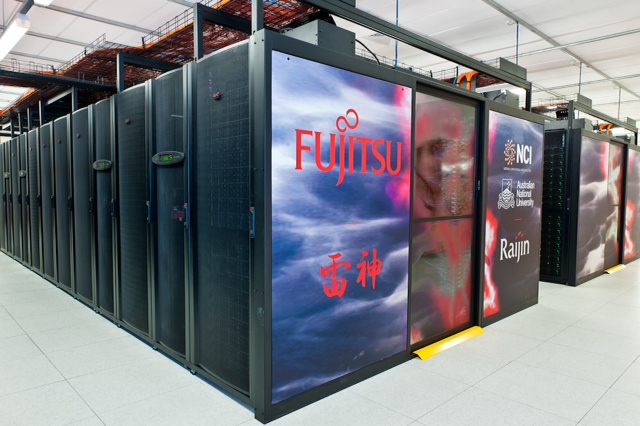 The storage NetApp is providing is for VMware and OpenStack use, and it will increase Raijin's storage capacity from 33PB to 44PB. How much of the extra 11PB will be EF all-flash storage is not known. The deal is worth $2 million to NetApp and it will work with Fujitsu to install it in the Raijin system.
Apparently this NetApp storage is going to be implemented in "pods" – blocks of capacity – which you can scale by adding more pods.
NCI is building global parallel file system storage to contain National Environmental Research Data Collection (NERDC) datasets ranging from deep space research to data about the Earth's core. Researchers' computations will get faster access to the data through the use of flash storage.
The use of FAS arrays for supercomputer storage is, to say the least, atypical: not so of course for E-Series arrays. It seems odd that NCI didn't simply expand the DDN storage, which would seem simpler to install and operate. Why complicate matters with a new supplier, two operating systems – ONTAP and SANtricity – and three hardware products: FAS, E-Series and EF-series?
The whys and wherefores of public expenditure sometimes surpass all understanding. Maybe it is all Raijin bull. ®
Update: For what it's worth, DDN has been in touch about this deal to say it "... dominates the Top 500 supercomputing sites with over 60% of the Top 100 relying on DDN technology for performance and workflow acceleration advantages of technology designed specifically for this market. At times, NetApp can get very competitive on pricing in the HPC space as a means of trying to gain market share."
DDN certainly does alright in Australia - it won plenty of business for the 100PB RDSI storage cloud.