IBM feathers pillow with System z cash – but still losing sleep after 12 quarters of decline
Not a wink of sales growth in THREE YEARS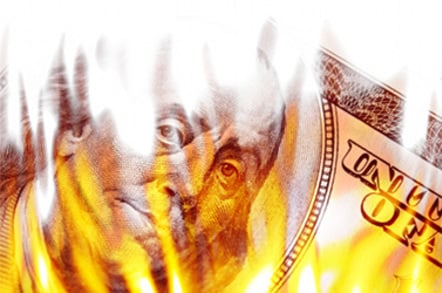 IBM weathered a tough first three months of its fiscal 2015, reporting its twelfth successive quarter of year-on-year revenue declines.
As has become a common refrain among tech execs, Big Blue CFO Martin Schroeter blamed some of the company's woes on unfavorable foreign exchange rates. But even correcting for currency fluctuations, IBM's revenue for the period ending on March 31 was $19.59bn, which was essentially flat, year-on-year. Read on a strict GAAP reporting basis, it was down 11.9 per cent.
That sum underperformed the Wall Street gurus' average estimate slightly, but was within expectations. IBM managed to surprise the analysts, though, by posting earnings of $2.91 per diluted share, which was better than they'd hoped for.
Net income for the quarter was $2.33bn, down 2.4 per cent from the year-ago period.
IBM saw its revenue decrease across every reporting segment, but that wasn't entirely due to lack of customer demand, and there were some bright spots.
One significant item that affected IBM's results this quarter was an approximately $870m charge for "workforce rebalancing." That's layoffs to you, and the charge was taken across multiple reporting groups.
The segment of the bunch with the steepest decline this quarter was the Systems Hardware division, which saw its quarterly revenue down 22.6 per cent, year-on-year, to $1.66bn. But recall this is the year after IBM sold off its entire System x server business to Lenovo, so the numbers shouldn't compare too closely.
In fact, one part of Systems Hardware did very well indeed. IBM's System z mainframe line saw its sales increase by 118 per cent as compared to the year-ago period, with the total amount of System z computing power sold, as measured in MIPS, up 95 per cent.
Neither sales of Power servers nor the System Storage division fared well, however, with both groups experiencing year-on-year declines of 3 per cent and 8 per cent, respectively.
IBM's Software group fared somewhat better than Systems Hardware. Its revenue was still down 8.2 per cent compared to last year's quarter, though, at $5.2bn. Sales of Rational software tools were the drain here, with sales down 10 per cent. Sales of WebSphere and Information Management products were flat, while Tivoli was up 4 per cent and Workforce Solutions was up a respectable 10 per cent.
Revenue for the company's all-important services businesses, meanwhile, looked gloomy. Global Technology Services saw its revenue decline 10.9 per cent from the year-ago period, to $7.89bn. Global Business Services, on the other hand, brought in $4.32bn in revenue, a 13 per cent decline.
IBM's odds-and-ends businesses didn't do so well, either. Global Financing's revenue was down 10 per cent, to $461m. And the catch-all Other category brought in revenue of just $67m, which was 37.4 per cent less than a year ago.
In a conference call with financial analysts on Monday, IBM CEO Ginni Rometty said this quarter's numbers were reflective of IBM's ongoing business transformation, which she said she expects to see Big Blue exit 2015 as a higher-value, higher-margin business.
Investors seemed content but not thrilled with the results, and IBM's share price closed up slightly on the news. ®