Android finally shows up for work, app in hand
The 'ultimate solution to get work done on your device', apparently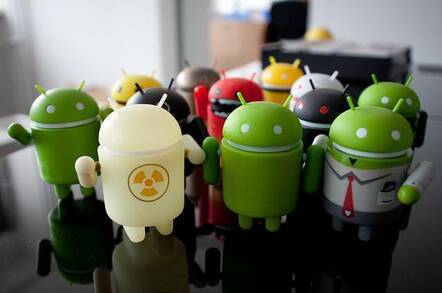 Google has finally published its BYOD app, Android for Work, adding to the already schizophrenic work-life balance environment for the devices.
The software has just popped up on Google Play, where it's described thus:
The Android for Work app provides the ultimate solution to get work done on your Android device and separates your work and personal data.

With your IT administrator's support, the Android for Work app isolates and encrypts work data, including productivity, third-party, and internally developed applications.

Use the Android for Work app to access all the business tools you need to get your job done.

With full policy enforcement, control over app distribution, and remote wiping of all business data, IT admins can manage the Android for Work app through partner management solutions.
It then goes on to contradict the access-all-the-business-tools-you-need bit by saying "Only compatible with Android for Work partner solutions".
Companies which have joined that partner solutions programme include Adobe, Box, Concur, Salesforce, and SAP, but it's not clear which applications from these companies will run under the software.
The model behind this is that customers can have an open, consumer mode which lets them be mayor of Clerkenwell on Foursquare and post pictures to Flickr, but which can then be locked down in corporate mode and you won't even be able to look for jobs on LinkedIn.
The technology has been available for a while from General Dynamics. The Google app was written with help from Samsung which has its own secure solution in the form of Knox. ®