Bloodied SanDisk preps for job cuts after market reading mis-steps
Taking 'aggressive measures to regain excellence'. Better hurry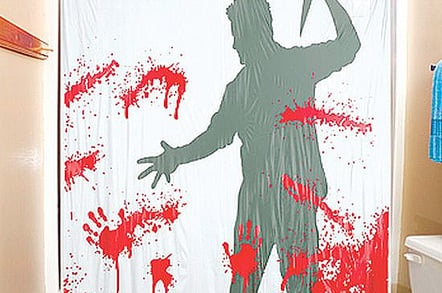 Comment SanDisk said its Q1 numbers were going to be bad, and bad they were, with revenue and profits drops due to an embedded component material screw-up and execs not seeing where the market was going. Job cuts are coming.
What's happened is that SanDisk fell short in the enterprise market, mis-read trends, and then discovered it needed a better product qualification and validation process too. These weaknesses have badly affected its results.
First quarter 2015 revenue was $1.33bn, 12 per cent down on a year ago and a whopping 23 per cent ($410m) down on the previous quarter.
Retail revenue was down 15 per cent sequentially and down 13 per cent year-over-year. Commercial sales revenue was down 27 per cent sequentially and down 11 per cent year-over-year.
It scraped a profit of $39m, just 2.9 per cent of its revenues, compared with $269m a year ago, and $202m in the previous quarter. Red hot rivets must have been spitting around the exec suite when the CFO presented these numbers.
We're told the net income figure included a $61m impairment charge for a cancelled R&D project from the Fusion-io acquisition and $41m of restructuring and other charges.
SanDisk CEO (and president) Sanjay Mehrotra said: "We are disappointed with our financial and operational performance and are quickly taking aggressive measures to regain the excellence in execution that we have delivered in the past. Our top priorities for 2015 are to strengthen our product roadmap and rebuild our momentum across the business."
You betcha, Sanjay. Heads are gonna to be cut. Exec reporting lines are going to change.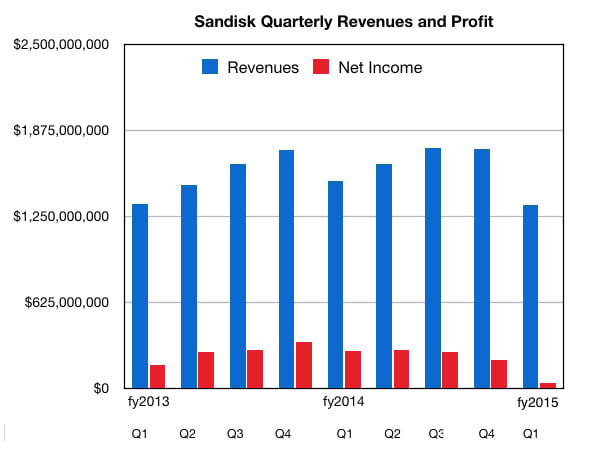 Sandisk's incline and fall
More came out in the earnings call, with Mehrotra reiterating disappointment: "Our financial performance over the past two quarters has been unacceptable to us as a management team."
So what are the big issues?
Mehrotra pointed to four problems:
Product issues, including qualification delays impacting embedded and enterprise sales
Reduced 2015 opportunity in the enterprise market due to rapid market shifts
Weaker-than-anticipated pricing
Supply challenges
Looks like SanDisk simply mis-read the enterprise flash market.
The product qualification issue refers to one customer and an embedded component for a client SSD application. It was due to "an issue related to a material used in our product assembly at the very last stage of our customer's qualification process".
There's a fix "but it requires our internal validation and customer re-qualification before production shipments can begin. The delay in sales of this embedded component was the single largest contributor to our Q1 revenue shortfall and will also impact our second quarter and 2015 results".
The reduced enterprise market opportunity comes from two things. First, there's the worse prospects for 6Gbit/s and 12Gbit/s SAS flash product and sales estimates have been cut. The fix? Well, SanDisk is "advancing our 12Gbit/s SAS product roadmap with 15 nanometer NAND and a new higher performance controller, and we expect to sample this product towards the end of this year."
The SAS products use 19nm NAND at present. The newer SAS SSDs won't bring in revenues until 2016, though.
Another client SSD problem was mentioned by CFO Judy Bruner with "the phasing out of our client SSD program with a large customer". That is thought to be Apple, with Samsung taking the business away from SanDisk.
Sponsored: Minds Mastering Machines - Call for papers now open