EU bods Oetti and Ansip: We must digitise EVERYTHING
Gov, cars, manufacturing, cars, geo-blocking, cars, and cars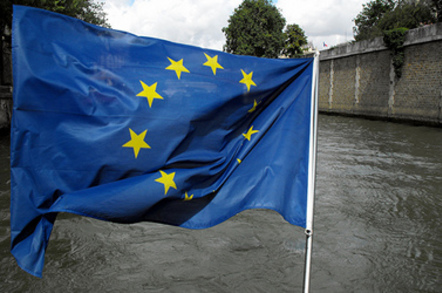 The EU's warring digi-chiefs — Vice President Andrus Ansip and Commissioner Gunter H-dot Oettinger — finally seem to be singing from the same hymn-sheet.
On Tuesday, both gave speeches highlighting the need for the wider industry to "get digital" as well as bemoaning the Digital Skills Gap™.
Ansip and Oettinger quoted the same figures saying that only 1.7 per cent of EU companies make full use of digital tech such as mobile, social media, cloud, big data, while 41 per cent say they are not using any of them.
According to Ansip, a "digital by default strategy" across the EU public sector could save €10bn a year and e-invoicing in public procurement could save up to €2.3bn.
Speaking at the European Policy Centre in Brussels, robo-veep Ansip once again reminded listeners that an EU-wide digital single market is essential to Europe's economic recovery. Market barriers must be removed, he said and "consumers could save €11.7bn per year if they could choose from a range of goods and services from across the EU's 28 countries when they shop online."
He could not resist a mention of his favourite pet subject – geo-blocking – but added: "This is not only about getting rid of long-standing annoyances like geo-blocking. It is a lot more. This is about Europe's future."
Oettinger, too, reverted to type at the Hannover Messe event in Germany, highlighting the plight of his favourite subject, the car industry:
"Will we sell only cars, or also the whole range of new digital services that come with the car? This is going to be all the more important as cars become increasingly connected and automated. If we do not pay enough attention, we might invest in producing wonderful cars but those selling the new services for the car would be making the money."
"It would be a big risk for our entire economy if industry in Europe did not take advantage of these new business models while others do, such as those who dominate web service platforms today," he added.
In other words, we can't have innovative apps drawing revenue away from car manufacturers.
Ansip, typically, was much more positive about the game-changing possibilities of digital services as he discussed the potential of cloud services, big data and apps.
"Today the app economy employs 1.8 million people. This is expected to rise to 4.8 million by 2018 – 3 million more jobs in a few years," he said.
Both digi-chiefs agreed that, as Oettinger put it, "business as usual will not work" and that digital services and traditional industry must be more closely aligned.
Of the two, Ansip is much more positive about the benefits of "technical progress" heading off arguments that destroys jobs at the pass: "We should not forget that the IT sector [has the power to destroy jobs], but I believe there will still be a net gain in employment."
"A global SME survey showed 2.6 jobs created for every one that was lost. The potential from digitising industry is huge – just think of automation, sustainable and clean manufacturing, processing technologies, for example. And not to forget the potential for increasing flexibility, efficiency, productivity, competitiveness – all helping to create jobs," he added.
Oettinger, meanwhile, said that the Commission would try "to ensure that all industrial sectors make the best use of new technologies and manage their transition towards higher value digitised products and processes."
He promised to open a dialogue with industry via "digital innovation hubs" and a "roundtable with high-level industry representatives".
If that sounds too vague and airy fairy, he insisted that he wants "at least five large-scale platform projects per year until 2018 to ensure the availability of state-of-the-art open and interoperable platforms that any business can use to make its products, processes or services ready for the digital age."
Clearly the two men must work together to deliver for Europe, but where one sees opportunity, the other sees a problem to be solved. It's not all plain sailing yet. ®