Just LOOK at this filthy Imation linen, screeches furious Clinton Group
Washing someone else's dirty laundry in public is always fun – for onlookers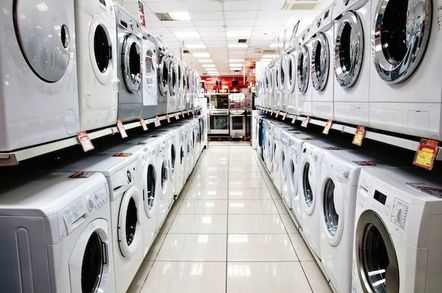 The Clinton Group, wanting to have its own slate of Imation board members, has released an emphatic diatribe of a proxy vote presentation, designed to disgust investors with what it says are the value-destroying failings of the current board and CEO.
The activist investor group pulls no punches, repeatedly saying that Imation's share price has fallen 69 per cent since 2010 – the year Mark Lucas became CEO – and that the share price fell 31.2 per cent in 2014 alone. It alleges:
Directors have overseen years of shareholder value destruction and poor financial results
Total cumulative net losses for the five fiscal years ended 2014 was $705.3m, or an average of $141.1m per year
Directors have awarded what Clinton believes is excessive compensation, in view of the Company's performance, for both themselves and executives
The Group says Imation should be restructured into a Legacy Business segment – which should seek outside restructuring assistance and be optimised for cash flow generation – and a Disk Storage segment to be optimised for enterprise value creation by developing valuable product roadmaps, while maintaining strict return thresholds for additional investment.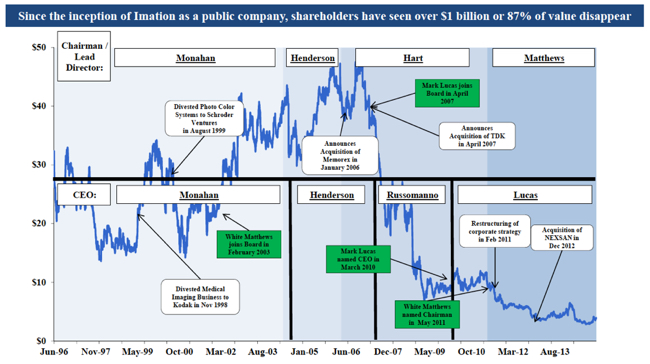 Click chart to see larger version
It also demands that Imation should eliminate corporate waste, recalibrate board and executive compensation and monetise non-core assets. Clinton says it is mindful of the strategic alternatives process today and will not stand in the way of a sale of the company – at a reasonable value, of course.
There's a whole lot of gory detail about Imation's performance as a business relative to its peers, with revenue-raising acquisitions failing to perform: especially the Nexsan disk array business, where revenues have consistently declined since it was bought.
You can read your own PDF copy of the presentation here to check out all the gory financial details in what is effectively a sack-the-CEO-and-board pitch.
Rarely has so much dirty linen been washed so very publicly. Enjoy it while it lasts. ®
Sponsored: Minds Mastering Machines - Call for papers now open