Tale of the tape: A happy Easter present from Quantum
Rising income means it looks like a corner has been turned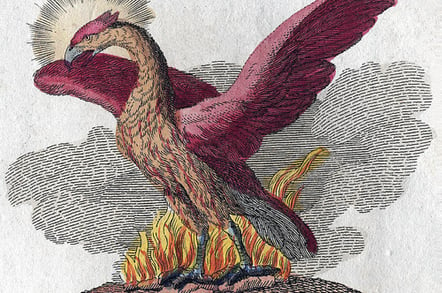 Quantum has announced excellent preliminary results for its fourth fiscal 2015 quarter, confounding expectations of a fourth-quarter revenue drop with a rise. Is its time in the tape trough of despond over? It looks like it could be.
Revenues of $145 million were 15 per cent higher year on year and $10 million more than Quantum's most optimistic estimate set at the end of the previous quarter. Net income was a profit of $12 million, which compares to a loss of $14.4 million a year ago and a profit of $6.9 million in the third fy2015 quarter.
This good quarterly news is not going to make the full fy2015 year a growth year, but it's damn close. Revenues are $550.3 million, just $2.9 million down on last year's $553 million. However, that year saw a $21.5 million loss, whereas this one is seeing a $15.8 million profit. That looks like a corner is being turned.
Looking at the charts, we can see the quarterly revenue and net income trendline has turned upwards;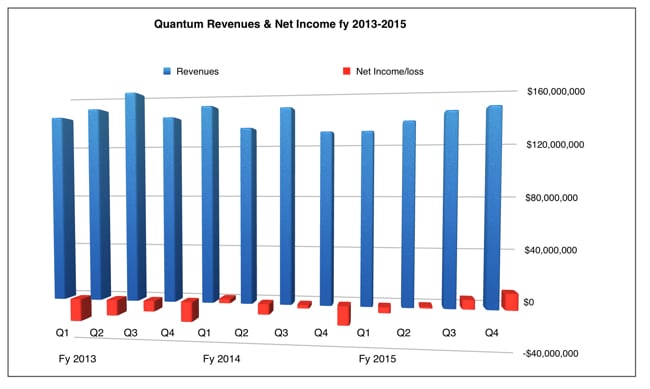 Quantum's revenue line has changed from having Q4 drops to a Q4 rise – and profits are growing, too.
The annual revenues chart shows a longish decline in revenues now levelling off.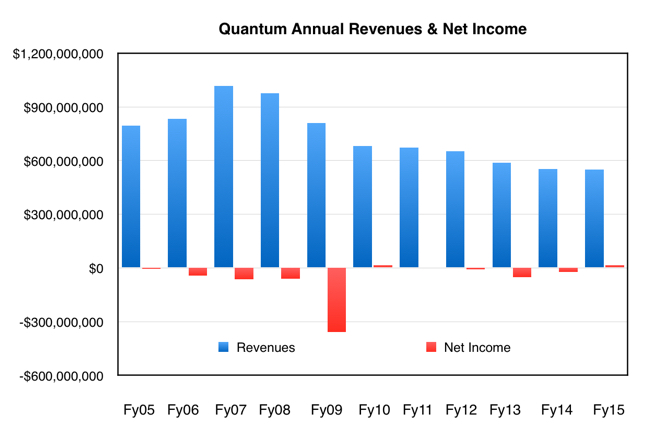 Quantum annual revenues to fy2015
A look at the quarterly net income trend shows a much more positive picture;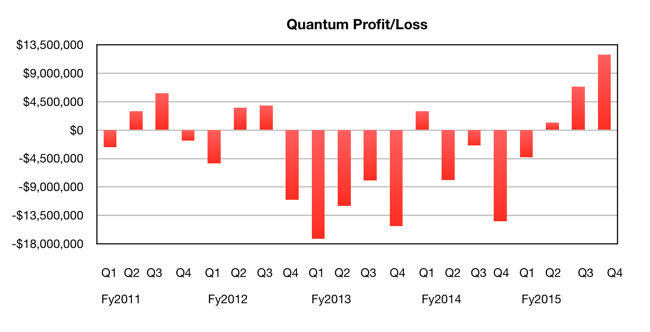 Quarterly net income: note the latest two-quarter rise
All this begs a question: why the good news? We'd guess it's because DXi deduping backup box and StorNext scale-out file management product revenues have grown strongly and outpaced the continued decline in tape product revenues.
Quantum CEO and president Jon Gacek said: "This was our fourth consecutive quarter of year-over-year branded growth... With more than 100 per cent year-over-year growth in scale-out storage revenue, we significantly increased our scale-out storage growth rate over the prior quarter, as we've done each quarter this year, and ended fiscal 2015 up more than 70 per cent over the prior year. In addition, total DXi revenue grew approximately 10 per cent for the year and reflected the actions we've taken over the last two years to drive DXi growth and profit."
The outlook is quite good too: "Heading into fiscal 2016, we expect continued strong performance in both our scale-out storage and DXi product lines to deliver another year of growth for Quantum. Due to typical seasonality, Q1 will likely show the most modest year-over-year comparison, and we plan to provide more detailed guidance when we report our final Q4 results in early May."
These results should drive the share price upwards and provide money for dividends if Quantum's board is so minded. It has, after all, four directors from activist investor Starboard Value sitting around the board table and could get two more, giving it a majority, if certain fy2015 business plan objectives are not met.
The upwards turn in Quantum's revenue and net income indicate that Gacek's role as CEO is probably in a strong position and that Quantum's overall product strategy has been validated. ®
Sponsored: Webcast: Why you need managed detection and response