Marvell: We don't want to pay this $1.5bn patent bill because, cripes, it's way too much
Chip bods warn 50¢ royalty will have 'sweeping consequences'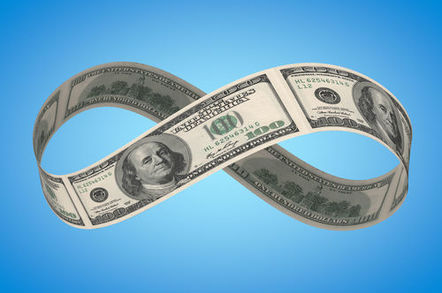 Chip biz Marvell is still trying to wriggle out of paying a whopping $1.5bn to Carnegie Mellon University after infringing the college's patents. The design firm has now warned the penalty could have "sweeping consequences" – to its existence, we presume.
Marvell, based in Santa Clara, California, was found guilty in 2012 of ripping off these two Carnegie Mellon-owned designs in its hard-drive chips without permission:
US patent 6,438,180: Soft and hard sequence detection in ISI memory channels
US patent 6,201,839: Method and apparatus for correlation-sensitive adaptive sequence detection
The American university has a kept a dossier of its complaints against Marvell online, here. The technology at the heart of the spat lies inside Marvell's read-channel chips, such as the 88C7500 family, which extract usable data from the analog signals picked up at high speed from spinning disk platters.
Speaking to a panel of judges at the US Circuit Court of Appeals in Washington, DC, on Monday, lawyers for Marvell said the £1bn verdict against the chip designer must be overturned, or it will have "sweeping consequences" if allowed to stand.
The university was awarded a back-payment of royalties totaling $1.17bn for the infringing Marvell chips shipped between 2003 and 2012. That sum was later raised by $370m after a court awarded punitive damages. Those chips were priced, on average, $4.42 apiece, and each netted Marvell $2.62 in profit, the university claimed. The courts reckoned Marvell should pay half a buck per chip to Carnegie Mellon.
"No reasonable jury could have found 50-cents-a-chip on worldwide sales is a reasonable royalty," Marvell attorney Kathleen Sullivan told the appeal judges this week, according to Bloomberg.
Marvell has long-contended that the $1.5bn award was excessive, and, according to US law, should be reduced to a more reasonable sum. Marvell's market cap is about $7.71bn, meaning the $1.5bn hit would indeed have a severe impact on Marvell's bottom line. It would wipe out a fifth of the company.
Attorneys for Carnegie Mellon, meanwhile, defended its royalty windfall, telling the judges: "You almost never see copying as blatant or as reckless as this." ®
Sponsored: Beyond the Data Frontier