Tape thrives at the margin as shipped capacity breaks record
LTO-6 pricing drops below one cent per GB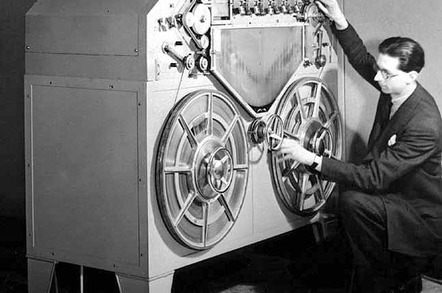 Shipped tape capacity passed 6.6 exabytes in the third 2014 quarter, a record.
An HP backup, recovery and archive product manager, Simon Watkins, revealed this in a blog. As a man with lots of tape libraries in his set of products, you'd expect him to be pleased.
The data came from the Santa Clara Consulting Group.
Watkins also said "LTO-6 tape media pricing fell below one cent per gigabyte" and repeated the general message that tape archives are cheap – much, much cheaper than disk. When data is in a long-term preservation state, then low-cost storage is prioritised over faster access, but more expensive (meaning disk) alternative media.
Watkins singles out DreamWorks Animation as sticking its long-term assets on tape instead of keeping them on disk, and thereby saving 15-20 kilowatts per hour for each PB that's not on disk.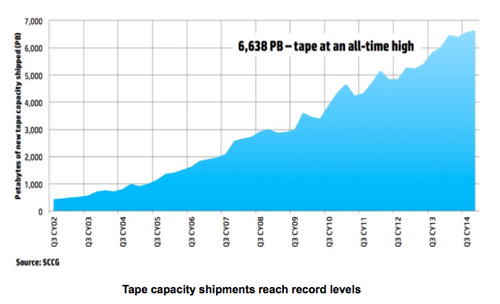 Tape capacity shipped by quarter. Source: Santa Clara Consulting Group
Big Data means data growth continues and that's great for LTO format tapes and drives, which have 95 per cent or so of the market. Won't cloud archive facilities such as Google Nearline and Amazon Glacier mess up the tape market?
Watkins thinks not: "The bandwidth and retrieval costs of these services mean that they are simply not practical for markets such as media and entertainment and high-performance computing, where multi-petabyte active archives are commonplace and where data is indexed and accessed frequently. Hence, the economics of cloud-based verses on-premise are highly dependent upon your particular storage and access requirements. No one size fits all!"
Tape keeps on getting pushed out to the low access rate/lowest cost storage margin. But as long as data growth continues unabated, then data pouring into this margin keeps it a profitable business. Especially for HP, which leads the LTO tape media market with a 30 per cent share. ®
Sponsored: Becoming a Pragmatic Security Leader