Chief architect Beepy ready to take Pure's flash somewhere new
Flash array rumour mill working overtime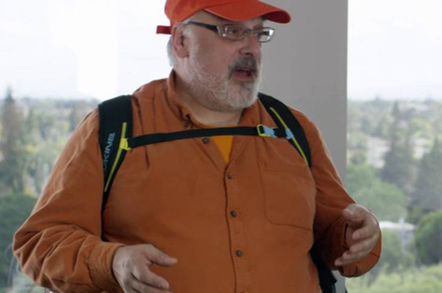 Pure Storage is putting ex-NetApp FlashRay engineering head Brian Pawlowski into a chief architect role.
Pawlowski, known as Beepy – BP, geddit? – left NetApp when his stand-alone, revolutionary, top-of-the-AFA-pack FlashRay project was demoted. He promptly joined Pure Storage, where his new responsibilities have been revealed.
So why does Pure need Beepy's architectural insights? Stands to reason that it has new products coming out that aren't straightforward incremental flash array product improvements.
Pure evangelist Vaughn Stewart said Pure is taking flash into new and uncharted territory. That could be marketing BS, or it could be literally true. Time will tell.
We've heard rumours of a "Skunk Works" inside Pure, a hyper-converged appliance and even an all-flash filer. Our take is that the networked AFA array is petty much a solved problem.
Okay, you can speed the network link (think PCIe fabric maybe) and increase density (think 3D and then TLC flash) and add a cloud back end, but these are incremental improvements that every AFA vendor can do – and will have to do to stay current.
The data centre buzz is around hyper-converged infrastructure appliance (HCIA) systems such as Nutanix, SimpliVity and the EVO:RAIL gang.
Does Pure want to extend its product range into that agency and get closer to compute at the same time? An all-flash, hyper-converged scale-out appliance? Is Pawlowski's job to help Pure plunge into the HCIA pool? Watch this space.®