Outsourcery still losing as much as it turns over
Another round of funding coming to a cloud biz near you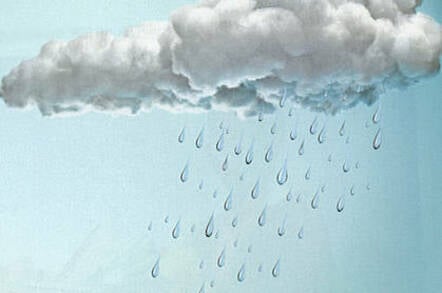 Former Dragons' Den rude boy and Outsourcery co-founder Piers Linney is likely to be forced to pitch his business to investors again for a fresh round of funding, after closing off a tough, cash-zapping year.
The London-listed cloudy biz reported revenues of £7.4m for calendar 2014 – up 42 per cent, but still some £1.1m down on forecasts. Monthly recurring revenues are up to £700k, from £400k.
Tighter controls helped Outsourcery contain costs at £10.36m, but this still left the company nursing an operating loss of £7.03m, albeit better than the £8.7m in 2013. After finance costs, the net loss was £7.6m, compared with a net loss of £9.3m in 2013.
At the half-way stage of the year, the business reported plans to set up a direct sales operation, because the channel numbers were off-target, forcing it to cut costs.
Later in the summer, Linney and co-founder Simon Newton agreed to work for free for 12 months, and issued more shares to bag another £1m worth of new investment.
But, despite this resetting of the cost base and the cash injection, Outsourcery ended the financial period with net debt of £2.7m due to capex, worse than the net debt of £2.5m in the previous year.
Company highlights in the year included orders covering 60k end-users from three FTSE 100 firms, and the first G-Cloud NHS framework with Berkshire NHS Trust, (this was actually signed in 2015, a two-year gig which will cover 4k seats at £450 per head).
Outsourcery said channel partners are now generating a "significant sales pipeline" (new signings include Vodafone and Virgin Media), the O-Cloud was accredited by government to run information classified as 'Official' and 'Official Sensitive', and it was made a Microsoft cloud solution provider.
Chairman Ken Olisa said the year had been one of "proving and learning" – he used the examples of selling the cloud concept to FTSE businesses and teaching channel customers to resell technology as a service.
"We have also learned that, in part, our own goals for the year were too ambitious in a young market. That does not make them the wrong goals, but we have required additional funding in order to reach them," he said.
He said fledgling businesses, particularly in tech, "often find it hard to accurately forecast their growth plans. This does not make them poor prospects. Rather, it requires a different approach to measuring and assessing their progress".
Investors, the chairman added, need to consider "qualitative" ways of analysing a company's progress, and valuing this "sometimes above" quantitative data.
In other words, play the long game because the cloud wasn't built in a day, but when annuity revenues reach critical mass, everyone will be quids in. The question is how long will that take, and will Outsourcery have sufficient liquidity to remain in the game?
The fact management are no longer forecasting the operational break-even point won't give any comfort to shareholders or new prospects.
For 2015, Outsourcery said it had £8.4m worth of orders and has already clipped this year's turnover estimates by 28 per cent to £11.1m.
Philip Carse, partner and principal analyst at Megabuyte, pointed out Outsourcery's expected sales haul for the year is a fraction of the £27.1m it forecast at its IPO, but this is no surprise "given the challenges" the firm faces to sell new services directly and indirectly.
He added: "Having survived 2014, Outsourcery's future as an independent company is still by no means assured, given its fragile funding state and the continued pushing out of forecasts." ®
Sponsored: Detecting cyber attacks as a small to medium business