Insight's EMEA prez: It's not our fault cloud sales are slow, blame the NSA
Firms' fluffy white services payoff is due in 2016, adds gros fromage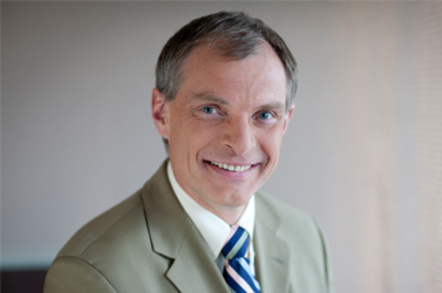 Services investments made by box-peddling shape shifter Insight Enterprises will start to pay dividends in Europe from next year, regional head honcho Wolgang Eberman has predicted.
The exec joined Insight from the beginning of 2014 with the remit to gradually reduce its reliance on traditional on-premise software and hardware sales by beefing up cloud and managed services.
We are told the company spent the best part of last year stabilising the "classic business" – reselling – in Europe, "that is why you saw top line growth and real profitability gained", the exec said.
Turnover in EMEA expanded six per cent to to $391.5m in Q4 – excluding the exposure to currency conversions. Gross profit margin edged up to 12.7 per cent from 12.4, and operating profit jumped to $3.94m, from $776k, helped also by reduced severance expenses.
The uplift was no doubt eased by the completion of a complex ERP roll-out across the region by Ebermann's predecessors – very few companies grow in the middle of an ERP project. More work to adapt to Microsoft's stinging programme changes by the old guard will also have helped, as will the revival in PCs.
The cloud and services pay-off has yet to show up on the books but Ebermann points to work completed, including the formation of a new EMEA services organisation led by Rolf Adam, with other recruits made.
"It is very clear, particularly for us in Europe, we are making a big step change so the investment takes time to pay off, that is part of our strategy and we are willing to do that," he tells The Channel.
The cloud initiative has been live for a while but Ebermann says it is starting to take more shape – in January Insight launched a cloud assessment consulting service that is SKU'd and packaged like a typical product. The billable service, rolled out in the UK, Germany and the Netherlands – it will be expanded – is run by Vincent Lukken.
Ebermann says his firm has signed deal with 20 service delivery partners including Colt and VMware specialist Xtravirt to plug the gaps in its own abilities. The company is working on rolling out to the wider market the Modern Workplace initiative – a remote managed service that includes device management and the roll-out of Microsoft Office 365 and Lync.
"We strongly believe there is a huge market out there, not only for selling the Office 365 license, but really landing and managing it… that is to come over the course of the next six months."
Another area is Hybrid Cloud centred around Microsoft Azure, which was packaged last year but will be brought to market "in 2015." Previously, Insight sold the license and online storage services but Ebermann says it didn't go much further.
He reckons the dynamics of the market over the last thirty years – technology being sold by technology people to technology people – hasn't solved the issues facing businesses. He reiterates that most businesses haven't seen IT as a competitive weapon.
"The consequence is because they talk technology, its very hard for the business decision makers to understand the impact… they need to become business technology experts.
"This is a major transformation, not a three month change," he adds.
Last year Cisco got rid of 6,000 staff and brought in 7,000 fresh faces with a new set of skills to sell technology differently.
Insight has started to hire "sales solutions specialists" and put 250 of the top sellers in Europe on a three day course in January. The idea is that these individuals will then lead local courses.
"We are very good at engaging with IT departments and the chief procurement officer to talk about helping them to run their IT better from an infrastructure point of view, said Ebermann."Are we good and are we continuously engaging with CFOs and articulating the strategic value of IT? No. So that is a real transformation for an IT partner like Insight, and that is why we brought in new solutions sales specialists with that capability."
So with this body of work required at Insight, and businesses in Europe still concerned about NSA snooping, when will the cloud start to significantly replace traditional reselling at the company?
"The real breakthrough will happen in 2016," he tells us. "There's still a lot of nervousness in the system, particularly in Europe with regards to the NSA scandal, that didn't help at all."
"You can get over-nervous and sensitive and with that you miss the need for ability… the global environment which is very competitive and volatile, it is very important that you don't miss agility and you are picking your bets as a company.
"I think the market is changing right now in a significant way and the question is are you actively participating or are you hanging in there and getting led," said Ebermann.
The new strategy is yet to bare fruit for Insight but will have to soon in order to justify the investment and transformation claims. ®