NetApp veep: 'We've shifted 750,000 all-flash arrays'. Er, really?
Firm sees seamless FAS integration for FlashRay
UPDATED Interview There has been a sea change in the FlashRay project, NetApp's ground-up all-flash array product development, with execs leaving and the project being absorbed into the overall ONTAP organisation. So we interviewed George Kurian, NetApp's product operations EVP, to find out about FlashRay's status and positioning, and NetApp's all-flash product portfolio.
El Reg: What is your general position regarding flash array technology?
George Kurian: We are firmly committed to our broad portfolio of flash offerings, including FlashRay. To deliver maximum value to our customers, we combine flash technology with mature enterprise-class storage and data management software and systems.
NetApp is focused on building a deep and differentiated pool of intellectual property around flash, providing us with a range of offerings to help customers best integrate flash into their data management framework on-premises, in the cloud and across clouds.
El Reg: In light of the FlashRay project joining all-flash FAS in the ONTAP performance products group, can you position NetApp's three all flash arrays, meaning the EF560, all-flash FAS and FlashRay?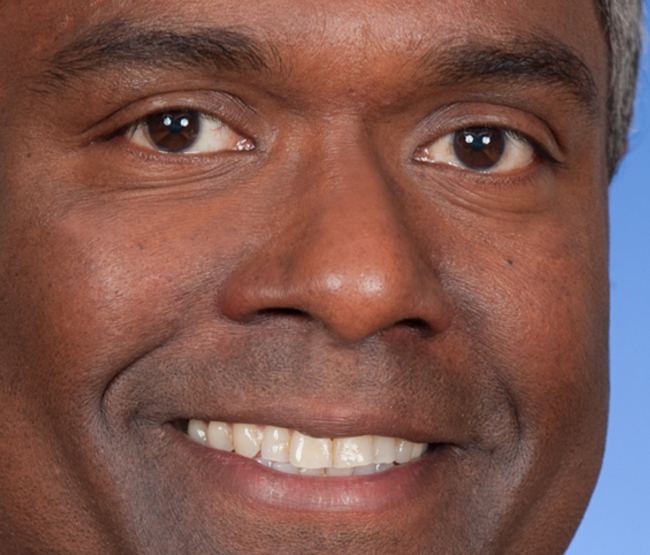 Seeing FlashRay's future ...
George Kurian, NetApp EVP Product Operations.
George Kurian: In general, we see flash media much like memory and disk drives, that is, as part of the solution for a diverse set of customer use cases and, consequently, an important part of a broad set of storage array architectures and solutions. Based on our engagements with customers, we are seeing them benefit from multiple approaches to flash storage to meet their diverse needs.
To deliver maximum value to our customers, NetApp is integrating differentiated flash capabilities into our full set of storage arrays to cover the market and the diverse set of customer use cases.
El Reg: What are the specific use cases for the EF560?
George Kurian: The EF560 is targeted for database acceleration (for example, high performance online transaction processing) in which the customer predominantly values performance and density and couples those requirements with proven high availability. These customers typically do not prioritise advanced data management capabilities as highly; instead, they value consistent high performance and availability. Our published SPC-1 result validates the impressive performance available to our customers.
We market the EF system to database administrators looking to replace ageing disk-based SAN systems. These users typically rely on host-based software solutions for storage services such replication, snapshots and compression. The EF system is one of the most proven platforms in the industry, with over 750,000 units shipped.
El Reg: What are the specific use cases for All Flash FAS?
George Kurian: All-flash FAS (AFF) is targeted at enterprises and service providers that rely on consolidated shared storage environments for both file and block storage. These organisations use AFF to standardise on a single data management standard for workloads ranging from general-purpose business applications to virtualised environments.
The rich storage services in the AFF product simplify enterprise and service provider data centres by combining excellent flash performance with support for non-disruptive operations, multiple protocols, multi-tenancy, quality-of-service, scale-out and Integrated Data Protection with other AFF products or the cloud.
El Reg: What are the specific use cases for FlashRay?
George Kurian: The FlashRay development effort began with the idea that a fresh storage operating system could lead to a marked improvement in storage efficiency and flash performance. What we found is that our current Data ONTAP and SANtricity storage operating systems are incredibly competitive and have market traction because of our full storage portfolio that offers reliability, management, services and support.
We are as excited today about FlashRay as we have ever been. However, we also believe that FlashRay is not required for us to compete effectively in the flash market today, it will eventually help customers deploy flash more widely in the future. The extensibility of our existing platforms, combined with their proven maturity, has demonstrated that all ground-up architectures are more incremental than radical in terms of the range of challenges they address.
With the wide range of evolving flash use cases we see in our customer environments, multiple options will be necessary. We also believe no individual architecture will eliminate the need for all others.
El Reg: How will FlashRay be developed from its current single controller, limited data services product status to match the needs for those use cases?
George Kurian: We continue to evolve FlashRay to support dual-controller use cases and meet the needs of customers. We have received positive feedback on the performance, ease-of-use and efficiency of FlashRay and will focus on doubling down on these strengths. In addition, based on customer feedback, we are integrating FlashRay seamlessly with our FAS portfolio to provide management consistency and to best solve complex customer use cases.
El Reg: NetApp has spoken previously of TLC flash being important for FlashRay. How does NetApp see the role of TLC, and possibly 3D flash, in the use cases for the EF560, All Flash FAS and FlashRay?
George Kurian: NetApp will adopt new flash technologies when they are reliable and cost-effective for customers. The opportunity for TLC flash is not limited to FlashRay.
El Reg: Which all flash storage would NetApp propose to cloud service providers looking for scale-out flash array performance and multi-tenant data services with quality-of-service facilities?
The All Flash FAS product family is the best fit for this use case.
El Reg: Which all flash array would NetApp propose to customers wanting high-performance storage for general-purpose, important applications for which competitors might propose EMC's XtremIO, IBM's FlashSystem, or Pure Storage arrays?
George Kurian: General-purpose storage means different things to different customers. NetApp competes and regularly wins against the incumbent and startup all flash arrays in a variety of different use cases. For example, we recently competed and won against XtremIO and Pure Storage using the EF560 and All Flash FAS for different customer use cases.
The EF-Series beats XtremIO by providing the highest level of availability and performance that customers demand. The All Flash FAS with its rich data management capabilities beats Pure Storage given our mix of hardware performance and software intelligence.
El Reg: How does NetApp see the all flash array market developing over the next 5 and 10 years? Into which sectors will it go, and will it aim to cover all these sectors with its own products?
George Kurian: NetApp believes that a hybrid cloud IT architecture will become the leading IT deployment model for the next decade or more. Our vision and strategy for enabling customers to achieve data control and choice in IT deployment models in this evolving IT landscape is called the data fabric.
A data fabric provides customers with a consistent way to manage, secure and protect their data, regardless of where they choose to put it. Flash media combined with high-performance, low-latency networking is a technological capability that will become an integral part of the data fabric in that time frame.
NetApp will continue to deliver competitive offerings to the market and innovate with our customers' current and future needs in mind. ®
UPDATE
NetApp sent us this statement clarifying its 750,000-units-sold number:
We don't disclose units of all-flash arrays. The SANtricity operating system and E-Series platform has sold over 750,000 units. Overall, with flash in the last quarter, we continue to see sustained momentum as flash capacity shipped has increased 69 per cent year-over-year.
Sponsored: From CDO to CEO