Does your broadband feel faster? Akamai says it went up 20 per cent*
* On average, globally
Broadband speeds around the world increased by 20 per cent, year on year, according to internet tentacle monster Akamai.
The website-caching giant claims in its latest State of the Internet report that, during the past three months to now, connections to ISPs peaked at 26.9Mbps, on average, dropping to 4.5Mbps the rest of the time – the latter figure up by a fifth compared to the same quarter a year ago.
Over the past 12 months, 132 countries saw their average connection speeds increase. All but four countries (Sudan, Botswana, Yemen and Libya) boasted average speeds above 1Mbps.
Once again, South Korea boasts the fastest connections in the world, with an average speed of 22.2Mbps. Hong Kong was second (16.8Mbps), followed by Japan (15.2Mbps), Sweden (14.6Mbps) and Switzerland (14.5Mbps). All according to Akamai's figures.
Though Good Korea can boast the highest average speeds, Hong Kong is tops when it comes to peak connection speeds, topping out at 87.7Mbps on average. Singapore was second with 84Mbps, followed by South Korea at 75.4Mbps.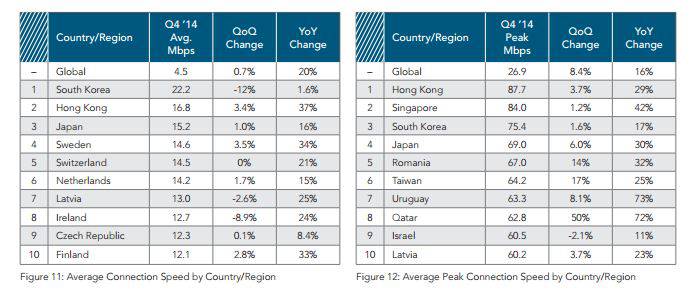 The complete top 10 in average and peak connection speeds (click to slightly enlarge)
The US ranks just 16th in the world, averaging 11.1Mbps and 49.4Mbps peak. Canada was 20th overall, and second in the Americas, averaging 10.7Mbps and 46.3Mbps peak.
The UK came in 18th with an average connection speed of 10.9Mbps and 48.8Mbps peak. Germany was 29th with an average connection of 8.8Mbps and France was 44th with 7.1Mbps. Australia was 42nd globally, with 7.4Mbps average and 36.9Mbps peak.
Worldwide, Akamai estimates that 59 per cent of netizens have broadband connections of 4Mbps or above, an increase of 7.8 per cent over this time last year. Bulgaria leads the pack with 96 per cent of its population on a broadband connection, followed by South Korea (95 per cent), Switzerland (93 per cent), Denmark (92 per cent), and Israel (92 per cent)
In the US, speeds were up across all 50 states for the year. For the best speeds, you'll want to move in next to Uncle Sam; states in and around the US capital had the fastest internet connections.
Virginia was tops in the nation with an average connection of 17.7Mbps, followed by Delaware (16.4Mbps), the District of Columbia (14.4Mbps), Massachusetts (14.2Mbps) and Rhode Island (14.1Mbps). Rounding out the top 10 were Utah (13.9Mbps), Washington State (13.3Mbps) Oregon (12.9Mbps), North Dakota (12.7Mbps) and New York State (12.6Mbps). ®
Sponsored: Detecting cyber attacks as a small to medium business