SCARESTEROID of the week to miss Earth on Friday
Feel free to complain on Saturday if we were wrong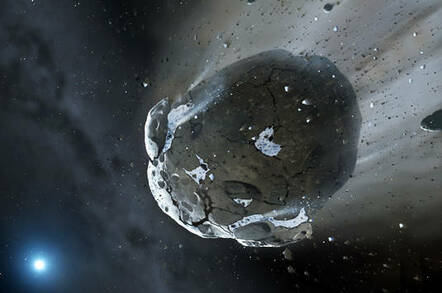 The UK press has noticed that NASA's Small Object Database Browser seems to show an asteroid passing close to Earth – and therefore we're all going to die on Friday.
We won't: while object 2014-YB35 will pass within 2.8 million miles (4.48 million km) of Earth, which qualifies as a "near miss" in astronomical terms, it's not just going to pass beyond the moon but is not even the nearest asteroid encounter for Q1 2015.
That laurel belongs to 2004-BL86, which swung by in January and came within 1.2 million km (745,000 miles) at its nearest approach.
A University of Buckinghamshire astronomy professor, Bill Napier, probably wasn't commenting on 2014-YB35 when he told the Express that there's a risk of a comet hitting Earth, because that was interpreted as meaning this comet "poses a very real threat".
YB35's been observed 380 times, so The Register figures NASA probably has it pretty well scoped. The agency reckons its next visit, in 2033, will be a little closer than Friday's flyby – but still not an impact.
Maybe we're wrong and the Express is right. Let us know, if the world happens to be destroyed on Friday and we don't notice. ®
Sponsored: Detecting cyber attacks as a small to medium business