El Reg reforms the Quid-A-Day Nosh Posse
Fancy tackling the Live Below the Line charity challenge?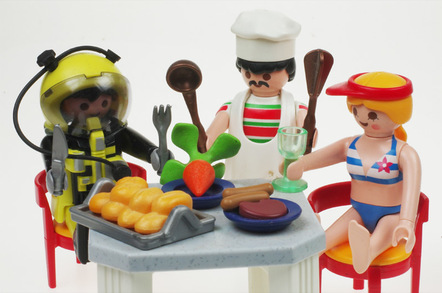 We're pleased to announce that we've reformed the El Reg Quid-A-Day Nosh Posse to tackle the 2015 Live Below the Line challenge to exist for five days on just £1 per day for food.
Over the last couple of years, we've raised a good wedge of wonga in support of Malaria No More UK, and we hope to do the same from 27 April to 1 May, as we once again subsist on a mouth-watering menu of budget grub.
Agreeably, Low Orbit Helium Assisted Navigator (LOHAN) team member Neil Barnes has volunteered for a second stretch of semi-starvation. Last year, he was joined in the cause by readers Toby Sibley and Chris Winpenny, and their combined low-cost culinary efforts made for entertaining reading.
Inspired by the Live Below the Line experience, Neil recently released a "Food For a Tenner a Week" cookbook in both dead tree and ePub formats, in support of the aforementioned malaria-battling charity.
My nephew Matt Haines has also agreed to do his bit, and since he's currently at the SPB's mountaintop HQ on temporary secondment, we'll be able to combine our fivers and come up with something a bit more varied than my favoured chickpea stew and rice combo.
We know some of you have been tempted to participate, and if you fancy joining us for this year's challenge, you've got plenty of time to plan your strategy. Drop me a line here and I'll explain what you need to do to sign up for the Quid-A-Day Nosh Posse.
The rules are pretty simple: you must exist on the fiver for five days, including the cost of bits and pieces such as herbs, spices, cooking oil and the like. We don't include energy costs – such as gas or electricity for cooking – in the total.
We have been known to indulge in some light foraging, which seems legit to our minds, and doubtless there will be more of the same this time round.
Those readers who prefer to participate from the sidelines, cheering us on while wrapping their laughing gear round a fat bacon sarnie, are invited to show their support by making a donation to the cause. ®
Bootnote
In case you're wondering what's the point of all this self-inflicted suffering, have a look here.
Sponsored: Detecting cyber attacks as a small to medium business