Microsoft's three-way only goes one way: Backends merge into Azure App Service
Come into our cloud, urges Redmond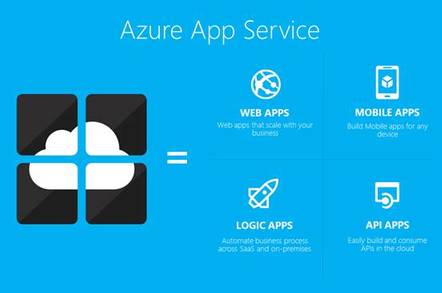 Microsoft is merging its Azure Websites, Mobile Services, and BizTalk Services into a single service: Azure App Service.
The Windows giant hopes the embiggened beast will woo developers to craft applications for all manner of things from smartphones and fondleslabs to desktop web browsers, all deployed from Redmond's cloud.
"App Service makes it easier to build web and mobile apps and connect them anywhere," Omar Khan, partner director of program management at Microsoft, told The Register.
The new combined service uses what Microsoft calls connectors to hook up technologies, such as databases and other storage systems, to software applications. The merged platform will run web apps written in .NET, Java, PHP, Python and others, and communicate with mobile apps built for Android, iOS, and – of course – Windows Phone, but not Blackberry.
"We'll be delivering over 50 connectors at launch," Khan said. "That includes code for on-premises systems for SAP, Oracle, .SQL, and more, as well as connectors for popular cloud services."
But not all. Connectors for Amazon Web Services won't be included, initially, although it will be possible to connect Azure-hosted code to AWS systems by other means. Khan said he expects developers to come up with a host of new connectors to interface with all kinds of software and hardware environments.
As for pricing, the new combination service will keep the same per-minute billing system used for Azure Websites currently. ®