US states vow to fight Google after the FTC meekly rolls over
We only want to ask you a few questions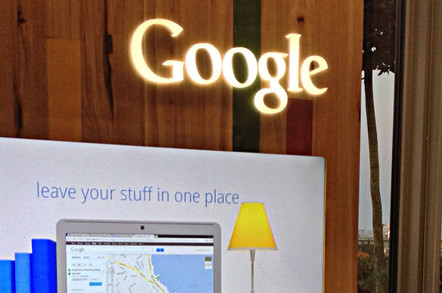 The USA may have backed down before the Chocolate Factory, but Mississippi's Attorney General Jim Hood says that an anti-trust investigation into Google is in the pipeline.
Hood, who is also the president of the US National Association of Attorneys General, told legal and policy newsletter MLex:
I think that anti-trust, that will be their Achilles heel. We're going to just keep gathering evidence.
Google has put the shackles on corporate crime-fighters, preventing the company's compliance with a controversial drug trafficking agreement from coming under the microscope. An injunction granted on 3 March prevents state attorneys from pursuing a subpoena – which is usually a preliminary to a criminal investigation – thereby halting the enquiry before it could begin.
Yet Hood says he'll fight the Google injunction, adding that Google's business practices are next in his sights.
"Once I get out of that I'm going to be filing anti-trust actions", he said.
Unlike federal agencies, who (as we've seen with the FCC and net neutrality, are notoriously vulnerable to political pressure), state crime-fighters are a notoriously feisty lot. They don't take no for an answer – and pursued Microsoft for years after the US government had made its peace with Redmond.
In an "accidental" FoI disclosure to the Wall Street Journal, the FTC found strong evidence of Google using its market dominance to hamper start-ups and protect its advertising monopoly. When sites like TripAdvisor and Yelp complained about Google scraping their content, Google threatened to delist them: tantamount to a search "death sentence".
Porn on the Bayou
Google has sued the state of Mississippi to freeze Jim Hood's investigation into the company. That's unusual – but not the only unusual aspect of the story. Google used a creative reading of a law created in the 1990s to take down porn websites – the Communications Decency Act (CDA) – to argue that the Silicon Valley giant would suffer "irreparable harm" if it had to answer Hood's subpoena.
Hood filed a subpoena requesting documents relating to Google's compliance with a Non Prosecution Agreement (NPA) it signed with the FBI, the FDA and Rhode Island in 2011 over the sale of controlled substances and illegal drugs via its Adwords program. The NPA followed a sting operation, after which Google paid a forfeiture of $500,000,000; it has since committed a further $250,000,000 to settle shareholder lawsuits about promoting illicit "pharmacies".
Google responded to the filing in December with an injunction which froze Hood's probe. Just prior to its injunction, stories appeared describing Hood as a pawn of Hollywood business interests, drawing on emails stolen from Sony Pictures. Google's chief counsel Kent Walker claimed that Hood "conspired to achieve SOPA's goals through non-legislative means" and had no authority to question the 2011 NPA.
In early March, US District Judge Wingate sided with Google and put a four-month block on Hood's investigation. Hood told MLex that Google had failed to show irreparable harm and Wingate had exceeded his authority as a district judge.
"The main thing is, where we're going with this is the drug sales online, the dark web, all the criminal activity that Google is assisting in and profiting from," MLex quoted Hood as saying. "Sure, movies and music are important, but they don't play a big part in all this."
Last week, Google launched a fishing expedition on movie studios and a law firm, according to the MLex newsletter, looking for the keywords "Project Goliath", "Goliath", "Keystone", "Project Keystone", "expanded Goliath Strategy", "negative Goliath news", and "tangle with Google". And any documents that mention the "Stop Online Piracy Act".
Even though he's a Democrat in a Republican state (the GOP controls the Mississippi State Senate 31:20 with a 61.5 per cent share of the vote in the most recent election), Hood has won the support of voters and the local press. Google's personal campaign against Hood only seems to have made him more determined to fight the giant multi-national. Having initially said he would not seek re-election, Hood now says he'll fight for a fourth term after all.
In its report, the WSJ noted in passing that "Google was the second-largest corporate source of campaign donations to President Barack Obama's re-election effort". ®
Bootnotes
For more details on the Google trafficking case, and on the documents Hood is seeking that Google doesn't want him to see, read our reports here and here.
You can read Mississippi's subpoena against Google in full (here, in PDF form). Judge for yourself the relative importance of intellectual property to the investigation.
Sponsored: Becoming a Pragmatic Security Leader