Distribution of cream among EMC executive fat cats revealed
Tucci is peachy, Goulden is golden and so forth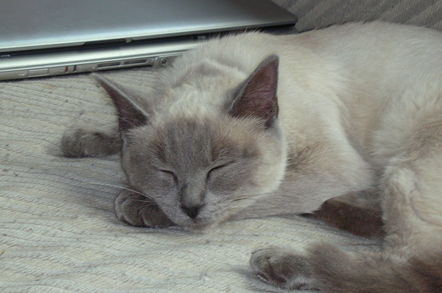 Fancy finding out how much EMC fat cats earn? Read on.
Total compensation – meaning share options, salary and bonuses – for the top execs at EMC Information Infrastructure (EMC II) in 2014 looked like this:
Joe Tucci (EMC Chairman & CEO) – $11,203,318
David Goulden (EMC II CEO) – $10,531,257
Howard Elias (President & COO Global Ent Services) – $6,934,486
Jeremy Burton (President Products & Marketing) – $6,903,485
Bill Scannell (President Global Sales & Customer Ops) – $6,831,281
Zane Rowe (EVP & CFO) – $6,696,362
Poor dears. Woefully underpaid the lot of them. How on earth can the second-tier execs afford the yearly yacht renewal on a measly $7m every twelve months?
Interesting that the pay levels of Joe Tucci and David Goulden are quite close, while the others are bunched together in the $6.7–$6.9m region.
If we look at how their pay has changed since 2010, we can see that Goulden has emerged from the pack and caught up with Joe. Goulden became EMC II CEO in January 2014, promoted from being EMC president and COO in July 2012. Before that he was EMC CFO.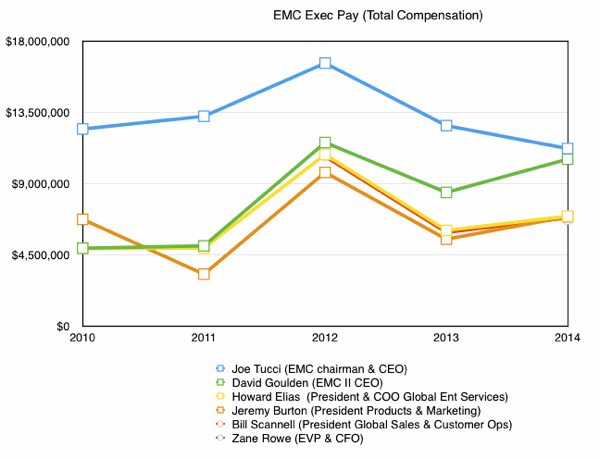 Interesting to see that all the execs' pay went down from 2012 to 2013 and rose again from 2013 to 2014, except for Joe Tucci's, whose renumeration carried on down while David Goulden's rose the most. But then his responsibilities rose the most as well.
Thank you Stifel Nicolaus MD Aaron Rakers, who unearthed these numbers from a DEF14A (proxy) filing. ®
Sponsored: Minds Mastering Machines - Call for papers now open