NORK internet outage was payback for Sony hack – US politician
PRK sawed through branch it was sitting on with notorious Hollywood blitz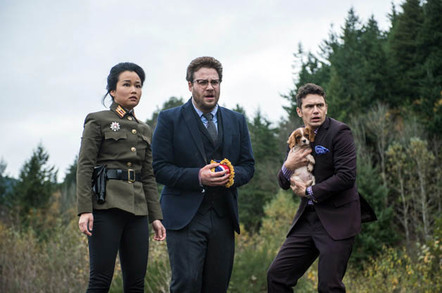 A North Korea network outage last December came in retaliation for the Sony hack, a US lawmaker claims.
Michael McCaul of Texas – Republican chairman of the House Homeland Security Committee – linked disruption of North Korea's thin internet pipe to the earlier devastating attack against Sony Pictures Entertainment.
"There were some cyber responses to North Korea," McCaul said at an event hosted by the Center for Strategic and International Studies, a Washington think tank. He later clarified that he was referring to disruption of the NORK's on-ramp to the internet. He declined to comment on whether or not the US was behind the action, Bloomberg reports. North Korea's internet connection was disrupted for about 10 hours on December 21.
The US government attributed the Sony Pictures Entertainment breach to North Korea, which was said to be motivated by indignation at Kim Jong-Un spy romp The Interview. The FBI was firm on this attribution despite doubts from the security community that a disgruntled insider working in co-operation with hacktivists was a more plausible set of suspects that better fitted the known facts of the attack. It later emerged that the NSA had compromised North Korea's internet connection for years, providing intelligence that allowed the FBI to be sure about pointing the finger of blame towards Pyongyang.
Sony Pictures' computer network was compromised by a group of hackers from the Guardians of Peace, who planted PC-wiping malware. In the days after the initial assault, it emerged that gigabytes of data had been siphoned off from Sony Pictures' network, a breach that enabled the leak of five of Sony Pictures' movies, confidential data about employees and sensitive emails.
Sony cancelled the planned release of The Interview in response to hacker threats referencing 9/11, before reversing the decision, a factor which further politicised the attack, which became seen as a challenge against free-speech and an example of cyber-conflict.
President Barack Obama threatened a proportionate response against North Korea as punishment for the Sony megahack. These reprisals included economic sanctions. Rep McCaul's comments have led security watchers to conclude that a retaliatory internet strike was also involved. Robert "RSnake" Hansen commented: "Is this the first time a politician has intentionally admitted to state-sponsored internet attacks?"
In related news, South Korea this week blamed North Korea for a December hack on a nuclear-power plant operator. Blueprints and test data were taken in the December attack against Korea Hydro and Nuclear Power Co Ltd, Reuters reports.
The hack was run using malicious code of a type used by the NORKS in the past and spear-phishing emails traced to IP addresses north of the 38th parallel, which marks the border between North and South Korea. ®