Hackable media box based on the Raspberry Pi compute module: Five Ninjas Slice
Come and fiddle with our Linux-powered toy
Opening gambit
Slice runs OpenElec, the pared-back Linux distro designed to boot straight into Kodi. They're all open source. OpenElec boots out of the Compute Module's 4GB of Flash, so you can run it entirely without a disk, which the preview unit lacks to expedite shipment. Just grab and play video and music files on your NAS or share from your computer.
The kit inside
I had a spare 500GB 2.5in drive pulled from an old laptop, so I put that in. Opening the Slice is just a matter of removing four bolts with a supplied Allen key. This separates the Slice's two halves and the band of translucent plastic from each other. None of them are machined to fit together so reassembling the case requires careful alignment, but once you have a couple of the bolts in firmly, the rest follow easily.
Slice's internal SATA connector is mounted on the underside of the motherboard, so that has to be detached too; out come five screws. The preview kit came with four further screws to fix the drive in place, plus a suitably sized sheet of thin cardboard to place twixt disk and PCB. Put the card down on the board, slot in the HDD or SDD, flip them round, fit a couple of screws, reassemble the case and you're done.
One of the Slice's four USB ports is a micro connector dedicated to computer connections. Hook the Slice up to your machine this way and it automatically mounts as an external drive for formatting (Five Ninjas recommends ExFAT, for cross-platform support) and provisioning.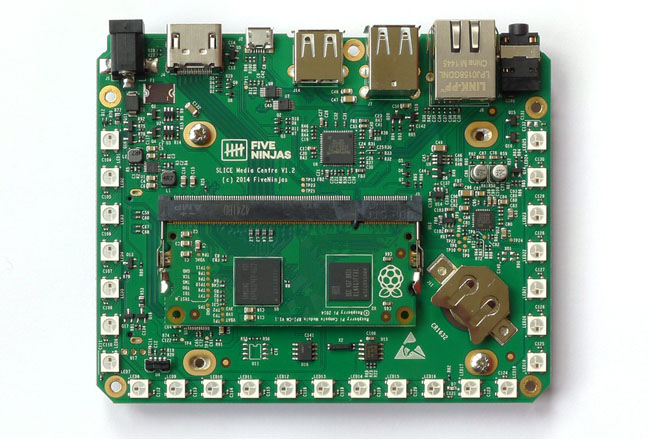 Mobo
Kodi has a built-in SMB server, of course, but copying files directly is quicker and the Slice gets extra points for making this very easy to do. A micro USB cable comes bundled; it has an extra full-size USB port if your choice of HDD requires two ports worth of power. You get an HDMI cable too.
The preview unit was intended as a way to get hardware into backers' hands as quickly as possible. As such it's still notionally a beta; it's marked as a development release when you start it up. Kodi itself is reasonably mature, as you'd expect a popular and long-running open source project to be.
But the Slice side needs a little work: some of the lighting effects, for example, seem mismatched – flashing green when you hit pause, red when you hit play again, for example – and as yet there's no way to configure them yourself: not the colour patterns displayed, the events they're triggered by, nor the brightness. An app that will let you do this is in development as a result of Five Ninjas exceeding its Kickstarter target, but it's not available yet.

Three USB ports but wireless dongles can use them up quickly
The hardware is in very good shape. The Compute Module's 900MHz Broadcom SoC has a good graphics core, here put to use animating the GUI and handling video decoding. It handled all the 1080p content I threw at it with aplomb, though it baulked at a 2160p (4K) MP4 file. To be fair, my MacBook Air could barely cope with that and it's not a common frame size, but it may become one in the years ahead. Slice wasn't happy playing DVDs in a USB-connected drive, either, but you'll have ripped all your discs by now, surely?
There are issues with audio output through the Slice's combo 3.5mm analogue and digital optical port, but the development team is aware of this and says it's working on a fix. Audio through HDMI – Slice's only video output – is fine, though. VC-1 encoded video doesn't always trigger the hardware acceleration, I'm told.