NSW premier pitches 'digital licence' as election stunt
Cops to demand your phone, what could possibly go wrong?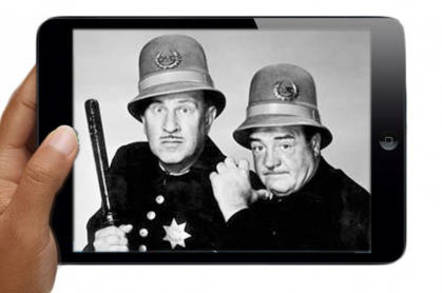 In the throes of an election campaign, the NSW Government has hit upon a way to guarantee that police can require people to unlock their phones: that's where Premier Mike Baird wants your driver's license to be.
Pitched as a money-saving measure because today's printed-plastic licences cost tens of millions of dollars, the scheme would initially be opt-in.
To get the ball rolling the government's Digital Council will be asked to work through issues like security and privacy, as part of a roadmap to app-ify all licences.
Before the driver's license is offered on a smartphone, the government will test the idea on smaller markets – the photo IDs available for non-drivers to prove their age, boat licences, and fishing licences.
Readers of The Register will be aware of the recent case in which a Canadian was cuffed for refusing to hand over his smartphone's password while crossing the border into the US.
Just as concerning to anyone asked to drop their phone in the hands of police would be this case, in which a Canberra AFP officer was fined for copying a sex video he found on a complainant's telephone, and handed a $1,500 fine.
While premier Mike Baird's minister for finance Dominic Perrottet defends the move on the basis that cafes increasingly offer mobile phone payment, Vulture South would note that cafes lack the element of compulsion involved in a policeman demanding someone's phone.
Police Commissioner Andrew Scipione – currently in an illegal bugging imbroglio – is named as a supporter of the scheme. ®