Droidberry dangles: Why the BlackBerry-Samsung alliance is big potatoes
Behold the mighty stealth platform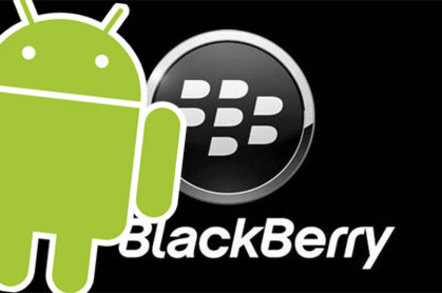 Analysis There's something about BlackBerry that even its biggest fans can forget. BlackBerry has never been a phone company – it has always been a network company. For over thirty years, BlackBerry has done clever things to and with networks. It brought efficient data management, security and intelligence to mobile packet networks – very useful services.
It's easy to forget that when you look at the RIM/BlackBerry history, it didn't make a phone until it was 17 years old.
Last week BlackBerry and Samsung announced a number of small news items that added up to something quite big. No wonder, then, that this week BlackBerry sites have been awash with rumours that and speculation that BlackBerry will create a "hardened" Android, perhaps with Samsung's help – or even that Samsung will acquire the Canadian mobile granddaddy.
"It seems like every time we get the press together, we talk about Samsung a lot," John Chen noted last week. But that's going to happen when you announce a major strategic alliance and then flash a phone around that looks a lot like a Samsung phone.
Let's refrain from speculation and focus on what has been agreed – because this has not been given the attention it deserves, and it has quite sweeping implications for Microsoft and Google.
Who gains what from Samsung and BlackBerry's collaboration?
For its part, Samsung is keen to consolidate itself as an enterprise company in hardware software and services. Samsung's determination to control its own destiny is evident in its long-term commitment to its own "unifying" platform Tizen.
The trouble is, Google doesn't like OEMs getting what it considers to be ideas above their station: Google wants to control the platform. As we saw with Silver, Mountain View doesn't care if the OEM brand, built up over years and using tens of billions of dollars, is reduced to a small label on the back of the phone. Samsung found itself rebuffed when it tried to introduce a new UI, and its grand roadmap for Knox took a knock when Google announced Android for Work last June. Knox would be a container, but Google would control the platform at the lowest level.
Meanwhile, after a lucrative decade in which it could package its network smarts into a consumer product and sell it in the millions, for a high margin, BlackBerry is back to looking at adding value to network services, which is really something it's been doing consistently for thirty years.
The Samsung/BlackBerry alliance has enormous potential, for two reasons. It's addressing a gap in the market vacated by Microsoft that Google hasn't got the chops to fulfil, and it's addressing it in an unusual and interesting way.