Computacenter's Brit team basks in double digit sales glory
But as for those Germans and Frenchies ... pah!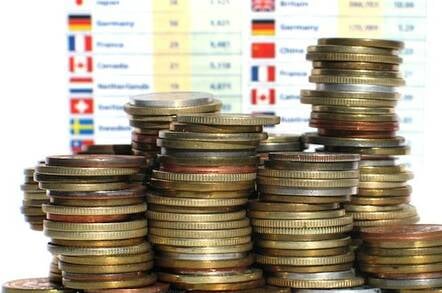 It was again the Brit arm of services-based reseller Computacenter that brought home the bacon for the group in 2014, as operations in continental Europe continued to wrestle with contract or market woes.
The group turned over £3.108bn in sales, up 1.2 per cent as reported or 4.2 per cent in constant currency, the fifth straight year of growth, with almost half of this generated by the team in Blighty.
Admin expenses were largely flat on the prior year at £323.8m but exceptional items were down at £7.5m versus £28.7m (when C'center was making provisions for troublesome services deals in Germany), meaning that operating profit was £76.6m, compared with £51m.
After HMRC took a £21.3m piece of the pie and finance costs of £1.8m, the London-listed outfit saw a net profit of £55.1m, compared with £33.1m in the prior twelve-month outing.
The business is ostensibly split between product sales and tech services, which grew 0.8 per cent and two per cent respectively to £2.122bn and £985.5m.
The territorial split in the results revealed the UK tentacle grew 10.2 per cent to £1.416bn with £919.3m coming from product reselling, up 11 per cent, and services growing to £497m, a rise of 8.5 per cent (this included a spike in professional and consulting services).
The improving Brit economy and greater pull through for products from services projects were fingered for the local output. Profit before tax was £65.9m, up from £56.9m.
In an echo of the group dynamics last year and 2013, the German subsidiary reported an 8.2 per cent decline in revenues to £1.167bn – made worse by the weakness of the euro versus the pound.
Product sales fell five per cent to £775m, as "underlying demand from customers fell away in the first half and did not recover until the fourth quarter ... this was impacted by the loss of a previously recurring software license resale of circa €30m".
Tech services came in flat compared with the prior year at £392.1m, with some shrinkage in contractual services and a slight increase in professional services. Stat profit before tax was £27.5m, up from £10.7m.
It was the French operation where the bottom line pain was felt; sales grew 6.4 per cent to £471.1m. "However this was flattered by a significant increase in the level of activity with lower margin customers," the firm stated.
As such, the business reported adjusted losses before tax of £9.7m, up from £7.8m. Computacenter said operational issues caused by the ERP roll out have been resolved and corrective action taken in the warehouse.
The relatively small Belgium business grew to £52.6m up from £48.1m and reported a pre-tax profit of £1.93m.
Computacenter CEO Mike Norris, said recent services wins in the UK and Germany gave him some "confidence for the future".
"The short-term will not be without its challenges. In the UK, there will be a significant number of our 2014 services wins taken on during this, and these will take time to mature," he said.
"Whilst we are encouraged by the fourth quarter performance in Germany, it is too early to tell whether this is a substantial move in the right direction, or simply represents a good quarter," Norris added.
The French arm is still in the "early stages" of building a services business, and "whilst it has a small number of attractive existing contracts, it otherwise remains out of date and uncompetitive".
"While we're confident of reducing the loss materially in France during 2015, a return to profitability is some way off," the CEO stated. ®
Sponsored: Minds Mastering Machines - Call for papers now open