Bad news: Robo-cars will make you work billions more hours. Good news: In 2040
And what about the job losses?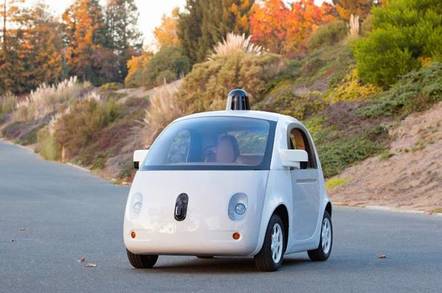 A new report from management consultants McKinsey & Co. suggests the widespread adoption of autonomous cars will save billions of man-hours a year (or make us all work more hours, depending on your outlook) but not for a while.
The dossier notes that software-driven vehicles are already in use commercially. Mining conglomerate Rio Tinto uses robot trucks to deliver ore around some of its sites and there has been limited deployment of farming machinery that doesn't need a driver.
But the report's authors think that wide-scale adoption of autonomous vehicles won't come until 2040 at the earliest. Google wants to get its computer-controlled cars on the roads well before that, ideally within a decade, but the McKinsey analysts think such cars will only be the purview of fanatical early adopters.
Once the mass-market does go for auto autos, the results are going to be massive. McKinsey estimates that the average commuting driver, of whom there are well over a billion, will save 50 minutes a day by letting the car do the work – and that time can be spent working (or Facebook'ing or shopping online), generating $5.5bn a day (for shareholders).
Having cars that will park themselves will also free up space in cities. Self-driving motors can park more closely packed together, and by 2050 this – along with automatic taxis reducing car ownership – could save 5.7 billion square metres of land in the US alone.
Meanwhile, a shift toward computer control is likely to lead to a sharp reduction in the rate of human death and injury on the road. McKinsey estimates that road accidents cost the US $212bn a year in car crashes in loss of life, permanent injury, and health costs. Autonomous cars could cut this to as low as $30bn a year.
The adoption of these cars is going to disrupt some industries, however. McKinsey notes that the insurance world is going to have to rejig its entire business model selling personal accident insurance to millions of drivers, and instead sell technology accident coverage to 50 or so car manufacturers.
There will also be a savage culling of garages. Autonomous cars will be able to take themselves off to be serviced in large facilities, meaning the local grease monkey could be out of a job.
They won't be the only ones. One of the factors McKinsey doesn't consider in its report is what the impact on the jobs market is going to be when autonomous vehicles go mainstream. Millions of bus, truck and cab drivers are all going to be in need of new employment when reliable self-driving vehicles become common. ®
Sponsored: Your Guide to Becoming Truly Data-Driven with Unrivalled Data Analytics Performance