Upper house of Parliament joins the drone debate
Droning on and on ... just like their Lordships usually do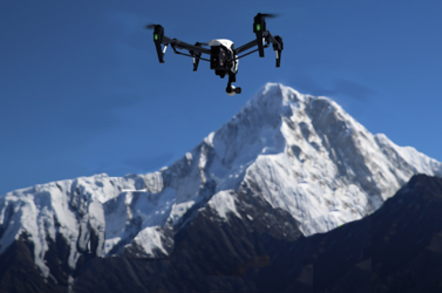 The House of Lords has today called for an online database or app to track and manage the growing use of civilian drones.
The snappily-named House of Lords EU Internal Market, Infrastructure and Employment Sub-Committee said drone-generated employment could reach 150,000 by the year 2050.
The report suggested a number of ways to manage the industry without introducing new legislation.
Committee chair Baroness Detta O'Cathain said: "[We] need to find ways to manage and keep track of drone traffic ... that is why a key recommendation is that drone flights must be traceable, effectively through an online database, which the general public could access via an app."
She added: "We need to use technology creatively, not just to manage the skies, but to help police them as well."
The committee was scrutinising the European Commission's proposals for drones, which in April 2014 called for new standards to regulate the operations of civilian drones.
However, it said stifling the industry through over-regulation "can be avoided if safety rules are proportionate to risk".
The current EU and UK legislation adequately covers data protection issues, it said.
The committee recommended increased guidance on data protection and insurance requirements for commercial operators. "In light of evidence that the media and police use of drones will increase, the report also recommends urgent public debate regarding acceptable civilian applications for drones," it said.
Given growing public concern over the use of drones by private individuals with little knowledge of aviation rules, it said the government should adopt a raft of measures to improve the safety of existing laws.
As such, more power should be given to the police to enforce existing safety rules, it said.
The committee also called for the widening of the application of geo-fencing technology, which limits flights over high-risk sites. ®
Sponsored: From CDO to CEO