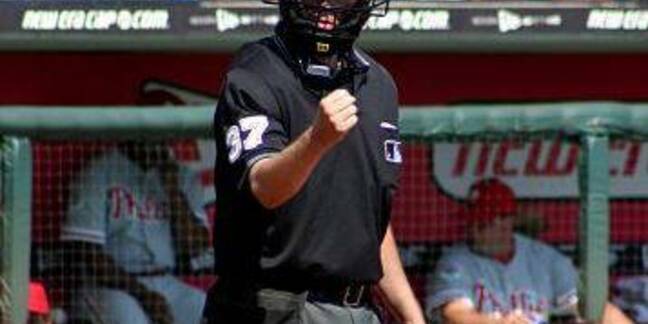 A former star of Major League Baseball hit a pair of alleged Twitter trolls out of the ballpark this week – by naming and shaming them on his blog, causing one to be fired and the other suspended from school.
Former Arizona Diamondbacks Boston Red Sox Curt star Schilling published screengrabs of obscene tweets about his 17-year-old daughter along with the names of two men alleged to have sent the messages. Schilling also listed where the guys study and work – one is a recent graduate and the other a student.
It's reported that one of the twits was axed from his part-time job, and the other suspended from classes, as a result of the online shaming. Both appear to have closed their Twitter accounts and deleted their tweets.
Don't feel bad for them: what they tweeted is beyond the bounds of what The Reg considers acceptable, never mind tasteful.
According to Schilling, of Medfield, Massachusetts, the harassment began after he congratulated his daughter Gabby on being accepted to university. Having 112,000 followers, his public tweet spread, and both Schilling and his daughter received replies ranging from sexually suggestive quips to overtly obscene threats.
"I know clubhouses. I lived in a dorm. I get it. Guys will be guys. Guys will say dumb crap, often," Schilling, a former star pitcher, wrote on his blog.
"But I can't ever remember, drunk, in a clubhouse, with best friends, with anyone, ever speaking like this to someone."
Schilling, who has a background in tech, did a bit of amateur sleuthing into the trolls, and posted snippets about two of the alleged culprits – such as that one is a DJ while studying at community college.
A six-time all-star and three-time World Series winner who played in the major leagues for 20 years, Schilling has a sizeable readership on his blog, and it wasn't long before his shaming post went viral.
After word of the post got out, the two New Jersey men were outed to their respective employers and universities. One was named as a ticket-seller for the New York Yankees, and a second was found to be a baseball player at a community college.
The Yankees fired the first alleged troll, while the second was suspended by his college and faces further discipline according a news report in New Jersey.
Schilling has little remorse for the pair, adding: "The real world has consequences when you do and say things about others." ®
Sponsored: Webcast: Ransomware has gone nuclear