NASA upgrades Rosetta, Voyager and moon landing tracker
Australian deep space tracking facility's upgrade comes online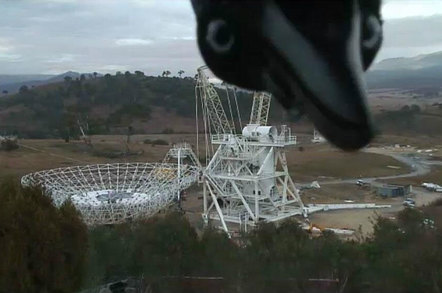 NASA has upgraded the Australian facility housing antennae that captured signals from the first Moon landing and still helps to track the Voyager missions.
The Tidbinbilla Deep Space Tracking Station already houses Deep Space Stations (DSS) 34, 43, 45 and DSS 46. The latter is a 26 metre antenna that received the first video of Neil Armstrong walking on the Moon, a feat it achieved at the nearby, but since-abandoned, Honeysuckle Creek Tracking Station, before being moved to Tidbinbilla.
DSS 45 was constructed for Voyager 2's encounter with Uranus. DSS 34 was last year used to track the European Space Agency's Rosetta and Philae as they approached Comet 67/P
The new DSS 35, commissioned last week, is a 34-metre, US$55m antenna said to offer "the latest in Beam Waveguide technology" in order to track probes billions of kilometres from earth. DSS will gain a sibling, DSS 36, next year. ®
Bootnotes: 1. The photo atop this story is a bird peering into the webcam used to track DSS 35's construction.
2. The Tidbinbilla facility is a pleasant 45km drive from the Australian capital city Canberra, and makes a splendid day out. There's a decent visitors centre on site and the 70-metre monster that is DSS 43 will impress even those who prefer their science to feature in new and improved shampoos. If space tracking isn't your thing, nearby Tidbinbilla Nature Reserve is home to friendly Kangaroos and Emus, plus some of the easiest-to-spot Platypuses you'll ever find. If you must visit Canberra, take the day to visit Tidbinbilla.
3. NASA has a webpage all about the Canberra Deep Space Communication Complex, which you can read here.
Sponsored: Beyond the Data Frontier