BlackBerry gets flirty with QWERTY IP, launches $275 Leap
Everything is up for licensing, too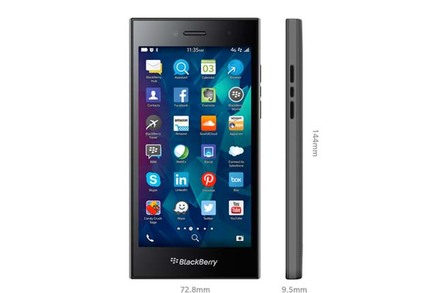 MWC 2015 BlackBerry's CEO told The Register today that everything in the company's IP portfolio is up for grabs, including hardware IP for BlackBerry's hallmark QWERTY keyboards.
"I'm not a big believer in holding on to all your secret sauces," John Chen told us. "We have 53 per cent of staff employed in IP creation and engineering and that's the most in a tech company I've been involved with. It's important we take advantage of that for our shareholders," he said.
BlackBerry's patent arsenal is vast and spans networking, data centre technology, hardware such as keyboards and security techniques. BlackBerry is transitioning into a software company but stresses it's not leaving hardware behind. We'd asked if everything in the patent portfolio, such as hardware, was available for licensing.
"It's a great portfolio. But we also need to continue to evolve, and build more IP, so I hope we get a much better technology. The answer's YES.
BlackBerry announced one budget touchscreen aimed at Europe and emerging markets – the Leap, based on two-year-old chips. The Reg has been told we can expect pricing at $275. It's aimed at "the young career builder".
But the company said that's only one of four models that will emerge this year. One, a huge "Dual Curve" slider was teased for less than five seconds – and despite requests from bloggers, didn't emerge again.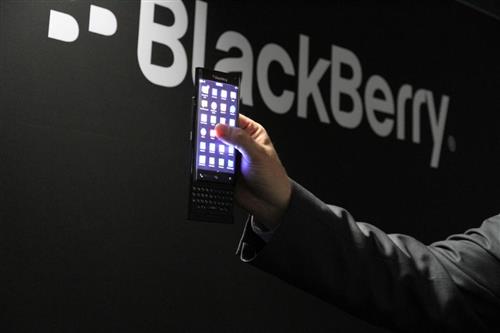 Now you see it, now you don't... the huge "Dual Curve" slider was teased for less than five seconds
The yet-to-be named monster is "mechanically very innovative and has very different usage scenarios," said Chen.
Chen told media and analysts:
"We have to be careful how we position our products. Some of those 5-inch touchscreens in Asia are selling for $100. I cannot put my BoM [bill of materials] at $100. But what we can do is build you a better phone.
Chen said that for the most recent reported quarters, BlackBerry had made money on hardware.
BlackBerry will do one more Porsche design device in 2015. That leaves one gap in the roadmap – presumably to be filled by a faster Classic. (The excellent work BlackBerry put into the Classic is marred by the slow speed of the old processor. So there's room for improvement.)
"The majority of the phones and people in the lab are focusing on the quality side of the equation. We will build some touch screens but they'll be focussed. Like Leap."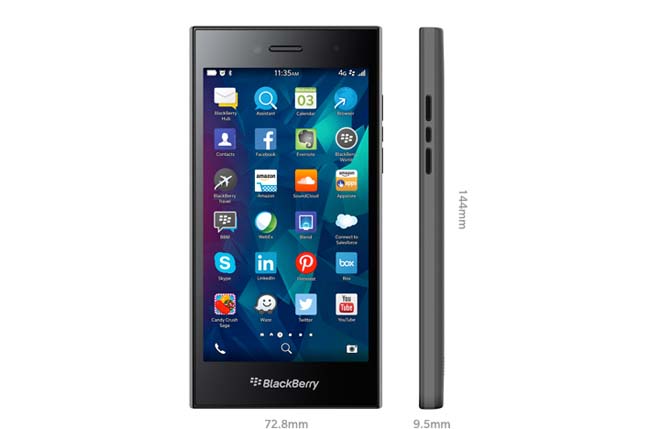 The new $275 Leap
Naturally Chen had to defend why anyone needs a BlackBerry at all, now that business users will be able to use the "crown jewels" of the BB10 platform such as the Hub, via a carrier or their own BES12 server.
"It's still the most secure and encrypted phone," he said, adding that oddball devices like the Passport and the Slider With No Name could do things nobody else could.
BlackBerry spent much time discussing more joint work from its partnership with Samsung – the two are as snug as bugs in a rug, and its enterprise strategy – but we'll report back on that later. ®