Turnbull's Digital Transformation Office already missing deadlines
Department won't reveal hires or plans, but 2017 finish line is still policy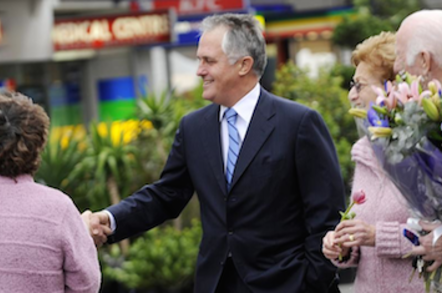 On January 23rd, Australia's prime minister Tony Abbott and communications minister Malcolm Turnbull announced a Digital Transformation Office (DTO) modelled on the UK's Government Digital Service (GDS) and charged with taking government services online.
As we noted at the time the office had no budget and no plan, but government policy (PDF) still calls for "every Government interaction that occurs more than 50,000 times per year can be achieved online by 2017. "
The UK's GDS looks to have blown an eleven-month deadline to get 25 services online: at the time of 16 of the 25 remained incomplete with under a month to go.
Even on the most charitable interpretation of "2017", Australia's DTO gave itself 153 weeks in which to do the job.
But even with that deadline, it started behind the clock: Turnbull's policy called for " three agencies with high-volume client interaction to trial three services using next generation tele-presence, such as in-browser Web RTC, from 2014." There's no sign of those trials having taken place.
To gauge the new agency's progress, we therefore asked the Department of Communications to tell us if the DTO has advertised for staff, or a leader, has made any appointments, developed a charter or a plan. We asked when we can expect to see a DTO website or when it will be listed in the government directory.
The answer we received included a spiel about the DTO's planned role but nothing of substance beyond a quote that "Work on establishing the Office and associated initiatives is underway and the Government will release further details in the coming weeks."
The Office has already burned through five of the 153 weeks – and remember, that's the kindest interpretation of the deadline - it's given itself to deliver the government's policy goals.
Yet Turnbull's policy still offers this statement:
It's time for the Australian government to show leadership on the digital economy and make a clear, comprehensive commitment to getting all of its major services and interactions with individuals online. The Coalition believes 2017 is a realistic and achievable date for this goal.
Given the GDS' travails and Turnbull's determination to model GTO on the UK agency, 2017 may not remain "achievable" for much longer. ®
Sponsored: Quit your addiction to storage