RIP Leonard Nimoy: He lived long and prospered
We are, and always shall be, his fans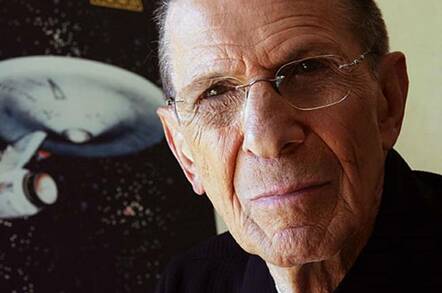 Obit Leonard Nimoy, the actor who became the most recognized face of the Star Trek franchise, has died at his home in Los Angeles at the age of 83.
A life is like a garden. Perfect moments can be had, but not preserved, except in memory. LLAP

— Leonard Nimoy (@TheRealNimoy) February 23, 2015
Nimoy was born on March 26, 1931 in Boston, the son of Orthodox Jewish immigrants who had escaped from Soviet Russia. His father, a barber, wanted him to go to college or learn a trade (he reportedly suggested that he could make a good living as an accordion player) but the younger Nimoy was fascinated at an early age with the creative arts.
He took acting classes at Boston College before moving to Hollywood in 1949, where he began to pick up roles in television, B-movies, and on stage. He also performed odd jobs to pay the rent.
After two years' service in the US Army, where he held the rank of sergeant, Nimoy returned to Hollywood and began expanding his career. Seldom the leading man, Nimoy earned a reputation as a solid supporting player and he also taught the Method school of thespianism when not on the stage or screen.
Enter the Shat and Star Trek
In 1964, Nimoy took a role in the popular TV series The Man from UNCLE where he played opposite an aspiring actor named William Shatner. The two became friends and began a partnership that would make both of their careers.
"I loved him like a brother. We will all miss his humor, his talent, and his capacity to love." -William Shatner http://t.co/U8ZN98tVYp

— William Shatner (@WilliamShatner) February 27, 2015
The following year, Nimoy took up the role of Spock, the half-human, half-Vulcan science officer in the pilot episode of a new science fiction series called Star Trek. That pilot was rejected by the networks, but a second pilot found favor and the series went on to run for three seasons before being dropped for falling ratings. Even then, it inspired a loyal cadre of fans.
Nimoy put a lot of work in developing the Spock character, coming up with the now-famous Vulcan hand salute and the phrase "live long and prosper," basing this on a blessing he learned during his Jewish upbringing.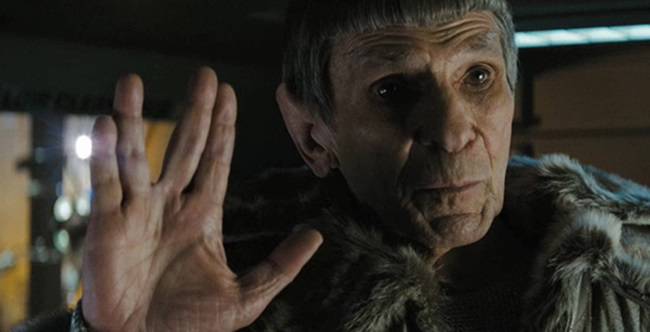 There were problems. Keeping the prosthetic ears he wore in character looking realistic proved difficult, and they kept falling off the side of his head.
But the following Star Trek built up during its brief run was unusually devoted, and it was screened extensively on repeats over the next decade. Eventually its enduring popularity convinced Hollywood that a film was justified and Nimoy reprised his role – although the end product, Star Trek: The Motion Picture, wasn't as popular as had been hoped, being decried by some as too cerebral.
But the follow-up, Star Trek II: Wrath of Khan, was a huge hit, helped in no small measure by Nimoy's portrayal of Spock's poignant death scene, in which he saves the crew at the cost of his own life with the words, "The needs of the many outweigh the needs of the few, or the one."
Nimoy directed the third film in the franchise, Star Trek III: The Search for Spock, which was widely panned, but also Star Trek IV: The Voyage Home, which was both written and directed by Nimoy, was a hit, grossing over $130m and proving an enduring favorite among fans.
Nimoy starred in next two Star Trek films but also worked on his directing career with the romantic comedy Three Men and a Baby, the highest grossing film of 1987. But he was not keen on directing and returned to acting and voiceover work.
I am not/am Spock
While Nimoy had a successful TV career after the Star Trek TV series, his association with the role typecast him, something he expressed irritation with in his 1975 autobiography I Am Not Spock.
While Spock remained his favorite role, Nimoy wanted to explain that he was more than a Star Trek character. His 1995 followup book, I Am Spock, clarified his thoughts on the matter. He remained closely entwined with the franchise, appearing in the animated series and on Star Trek: The Next Generation, as well as in the franchise's films.
He returned to the stage and was a noted thespian, taking well-received roles in Camelot, One Flew Over the Cuckoo's Nest, The King and I, and My Fair Lady. There were also his experiments with music, including the album Mr. Spock's Music from Outer Space, which while not a commercial success, did attract a cult following.
Voiceover work became an increasing part of his career, post-Trek. He narrated TV shows, NASA videos, characters in such films as Transformers: Dark of the Moon, as well as computer games like Civilization IV and Seaman and the popular TV show The Big Bang Theory.
When the Star Trek franchise was rebooted for the big screen with younger actors reprising the original cast's roles, Nimoy was given approval over who would play Spock. The role eventually went to Zachary Quinto, with whom Nimoy formed a close friendship – although Nimoy himself also appeared in 2009's Star Trek and 2013's Star Trek Into Darkness as an older version of Quinto's Spock.
my heart is broken. i love you profoundly my dear friend. and i will miss you everyday. may flights… https://t.co/WPJmt1X4ox

— Zachary Quinto (@ZacharyQuinto) February 27, 2015
Nimoy also dabbled in other arts. He published several volumes of poetry and he remained a keen photographer up until his death. A private pilot, he also criss-crossed the country giving presentations on the importance of space science.
Last year, the actor, director, musician, and poet warned fans that he was seriously ill and wouldn't be getting better. He had been diagnosed with chronic obstructive pulmonary disease, which he ascribed to many years of smoking.
He was hospitalized last week but returned home to live out his last days surrounded by his second wife, three children, six grandchildren and one great grandchild. ®
Sponsored: Detecting cyber attacks as a small to medium business