Nimble revenue diet gets fibre supplement
Losses are lessening, but can it get the result it wants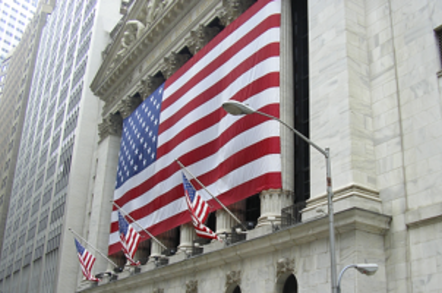 IPOed hybrid array market star Nimble Storage beat the street with fourth-quarter revenues of $68.3m, and lost less money than last quarter as Fibre Channel sales kicked in. Can it keep on like this?
The revenue was up 64 per cent on an annual compare. Losses of $24.7m were less than the previous quarter's $28.4m, but almost double the $13.2m of a year ago.
Full-year revenues were 81 per cent up on full-year 2014 at $227.7m, but losses of $98.8m were 129 per cent deeper than a year ago.
Looking at the full-year revenue and loss trend, the picture looks depressing, with losses increasing faster than revenues are rising. That cannot go on: stockholders will lose faith and Nimble will run out of cash.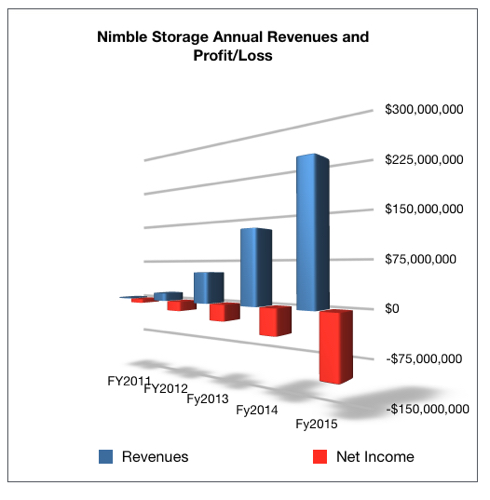 The picture is different if we look at the quarterly trend with a loss-reduction corner having been turned;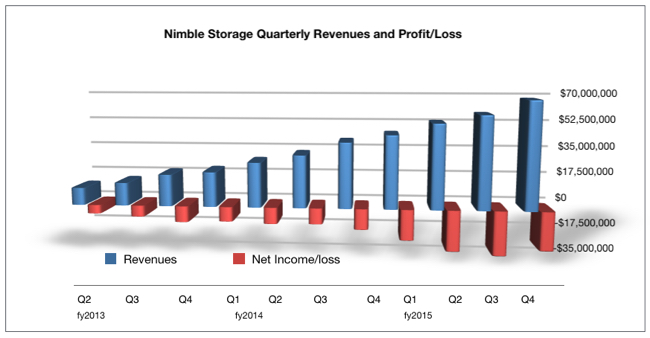 As long as that loss-reduction trend and the revenue growth both continue, we can see Nimble making a profit maybe towards early fiscal 2017, with break-even in the fourth fiscal 2016 quarter.
What signs of continued growth are there?
The Fibre Channel connectivity option introduced in the quarter is popular; it was involved in more than 10 per cent of fourth-quarter deals
The customer count has passed the 5,000 number, with 660 added in the quarter – and Nimble's customers tend to buy more kit
Highest-ever share of bookings from deals over $100,000 and deals over $250,000 in fourth quarter full-year 2015
Nimble generated positive free cash flow for the first time in Q4
CEO Suresh Vasudevan encourages us all to think that Nimble is riding the wave of a long-term and solid shift away from legacy storage architectures: "We are convinced that we are now reaching an inflection point, as enterprises of all sizes and service providers are concluding that the economic benefits of a modern architecture justify the risks of moving away from long-standing incumbent vendor relationships."
"We see this as the beginning of a secular share shift that presents a massive growth opportunity for us over the next several years," he added.
So, no matter what Dell, EMC, HDS, HP, IBM and NetApp do, Nimble can carry on growing? That's debatable. Is Vasudevan's declaration of a secular change inflection point in its favour real? Nimble has faith that it is.
Its mainstream competitors do not. We hapless hacks simply don't know, but we do think that Fibre Channel connectivity should grow sales in the next few quarters.
Nimble is focussing on:
Rapidly acquiring new customers
Growing the contribution from Global 5000 (G5000) enterprises and Cloud Service Providers (CSPs) as a share of overall bookings
Growing international bookings as a share of overall bookings
Working to get customers making repeat deployments with its system telemetry-based support facilities and features
Channel-wise, Nimble is not expanding its partner base in the US, but it is internationally, with Vasudevan saying in the earnings call: "Our distribution presence in the US, for example, is stable and will not change materially. Internationally, we are bringing distributors on board ... [The] reseller perspective, in markets like the US, for us for a couple of quarters now has not been so much on expanding the base of partners. It's frankly even within our existing base of partners that we are starting to see more with fewer partners ... making larger investments."
Minor points: Nimble is actively recruiting a new sales boss and it saw some foreign exchange headwinds, but not as strong as the ones that affected NetApp or HP in the January period.
Deduplication functionality may be coming with it being settable on a workload basis, with VDI, for example.
Vasudevan also said: "Much of our roadmap enhancements are around the area of how do we continue to have the ability to serve all-flash workloads at one extreme, and all workloads at another extreme. Things like quality of service ... are all part of that."
It wants to keep on differentiating its product and support services from legacy and start-up vendors.
Nimble expects revenues next quarter to be $68m-$70m, flat sequentially at the mid-point but a 48 per cent increase on the year-ago quarter.
Its cash balance will decline in the quarter, but is then expected to rise as it grows to the break-even point and then profitability.
Read Nimble's letter to shareholders for more background and details. ®
Sponsored: Detecting cyber attacks as a small to medium business