Google to tame Android's Wild Wild West to please suits
Rounds up enterprise posse for sandboxed safety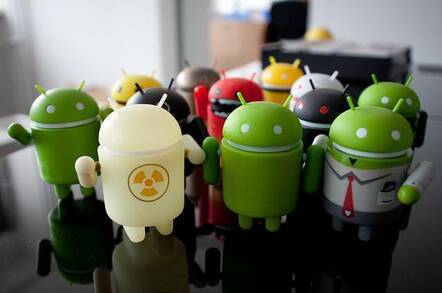 Google is recruiting Android app authors to help tame Mountain View's Wild, Wild West mobile platform for businesses.
Mountain View has opened Android for Work to build secure and sandboxed apps running on Android-powered smartphones and tablets.
Android for Work apps will use dedicated work profiles on Android-powered devices to protect work data, Google said. This will be done using the default encryption, enhanced SELinux support in Android 5.0.
An Android for Work app will deliver collaboration and productivity apps that don't run natively. Apps will work with Microsoft Exchange and Lotus Notes.
The giant ads-slinger has also offered up Google Play for Work, which will allow IT departments to deploy apps and approve the apps downloaded by their users.
Partners signing up to the programme include SAP, BlackBerry, Citrix, Samsung, Sony, LG, Salesforce and Adobe, among others.
SAP (in a statement) reckoned Android for Work is a "game changer" that would provide customers a "simple and consistent" way to mange and secure Android regardless of the version of the operating system running.
Office party
Android has enjoyed phenomenal success on phones and tablets among consumers, but its credentials as a workplace platform are weak.
Bring Your Own Device and Choose Your Own Device strategies have been a hit for device-makers but a headache for customers' IT departments.
Organisations are forced not only to support mobile versions of their apps but secure their critical infrastructure against potential new attacks. Additionally, they have to take steps to guard against data loss.
The vast majority of malware written for mobile targets Android, according to security firms. Further complicating things is the sheer diversity of Android editions in circulation on different devices - six main releases since 2010 with a number of point releases. Both device-makers and users are remiss at wiping out legacy installs with over-the-air updates for new versions.
Apple's iOS, meanwhile, has found its footing among the upper ranks of management, forcing IT to tolerate it, whether or not they embrace it. Apple claims 98 per cent of the Fortune 500 use iOS devices.
Apple last year partnered with IBM to deliver mobile apps for iPad and iPhone using IBM's MobileFirst suite. Apps are native with IBM's cloud providing device management, security, analytics and integration with the mobile device.
So far, the alliance has produced apps for travel and transportation, banking and financial markets, government, retail and telecoms.
Announcing its work programme, Google said more than one billion people own an Android smartphone for uses including email, document creation and editing and collaboration, but Android smartphones and tablets are underutilised in the workplace.
"Their business and innovation potential remain largely untapped," Google's director of product management, Android and Chrome for Work Rajen Sheth said in a statement. ®
Sponsored: Quit your addiction to storage