Colt sales slide, profits turn to mush in shiny new cloudy world
Medium-term forecast? Sorry, never heard of it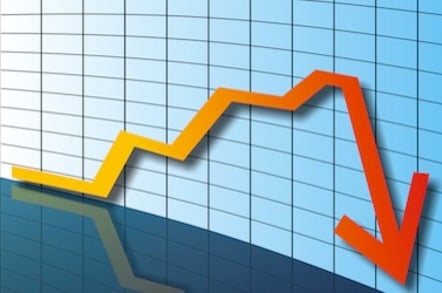 A double-digit sales crash in the carrier voice division led top-line declines at Colt in 2014, as a series of one-off costs – including a major restructuring programme – downed profit.
It was a "disappointing" outing for the London-listed operation, with turnover dropping 6.4 per cent to €1.49bn in the 12 months, the firm said.
Around the half-way stage in May, Colt made the decision to exit the low-margin carrier voice business, leading to a sales wobble which caused voice services to slump 19.4 per cent to €452.1m (some €75.6m lighter than a year ago).
"Our performance in 2014 did not deliver what we set out to achieve," said CEO Rakesh Bhasin.
The IT services wing also reported less-than-glowing numbers, down 3.4 per cent to €77.8m. This indicates little progress has been made since Colt overhauled the exec line-up running this unit.
The drop was "associated mainly with proactive churn in the legacy hosting business".
The units on an upward swing included network services, which edged up 1.2 per cent to €841.5m, as managed networks more than offset declines in legacy SDH.
Data centre services sales were also up – 5.7 per cent to €120.2m – with more effort on retail co-location that saw capacity added to server farms in London and Hamburg, and new sites in Birmingham and Stockholm.
The cost of sales, network depreciation and exceptional items left gross profit at €386.6m versus €378.8m in 2013, and after operating expenses were discounted, Colt was left nursing an operating loss of €25.1m compared with a profit of €39.4m.
Net loss after finance costs was €28.2m, against a profit of €38m in the prior year.
This was not a year of progress for Colt and it warned that revenue and EBITDA (earnings before interest, taxes, depreciation, and amortisation) targets to 2016 – set back in 2012 – are "no longer relevant due to an accumulation of factors ... particularly the sustained weakness of general macroeconomic conditions across Europe and in the enterprise market in particular".
Investors must wait until the middle half of this year for a fresh forecast.
Analyst Megabuyte pointed out Colt "compares unfavourably" to its network peers and against co-location rivals.
"The [Colt] release is littered with excuses for the company's poor performance; the reality is that Colt should have planned its transition to a new world far sooner that it did, and the fact that we will have to wait until the second half of this year for detailed medium-term plans suggests that the company still has no clue about what's going on in the wider world," it said. ®
Sponsored: Detecting cyber attacks as a small to medium business