NetApp shows hybrid love, revamps products for Amazon's cloud
All woven in to DataFabric concept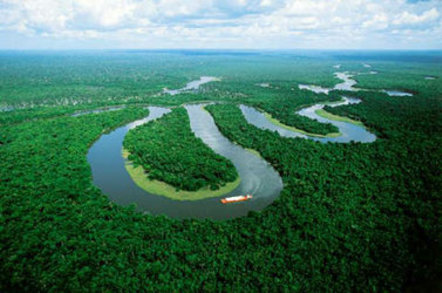 NetApp is cosying up even more to Amazon in pursuit of its hybrid cloud data fabric ideas.
What it's doing is this:
Adding three SteelStore cloud-native backup products as Amazon Machine Images (AMI) to backup cloud-based workloads, taking on EMC'S newly acquired cloud app firm Spanning.
On-premises SteelStore physical appliances for backup to the cloud complement the in-cloud AMIs.
StorageGRID Webscale 10.1, NetApp's object storage product, gets Amazon S3 as a storage tier in the cloud.
Updating OnCommand Cloud Manager, OnCommand Insight software and Cloud ONTAP software subscription.

OnCommand Insight 7.1 delivers Storage Resource Management (SRM) for hybrid environments, so customers can monitor SLAs through performance monitoring, capacity management, identifying reclamation opportunities and awareness of IT costs.
Customers can use Cloud Manager software and Cloud ONTAP software subscription to manage data replication to the cloud with a single application.
Deployment of Cloud ONTAP software subscription and OnCommand Cloud Manager is simplified and NetApp service and support registration automated.
These SteelStore and StorageGRID WebScale updates make S3 and Amazon Glacier data destinations for NetApp customers. SteelStore was bought from Riverbed recently.
NetApp says "Cloud ONTAP software subscription, an instance of NetApp's industry-leading storage OS running as a software subscription on AWS Marketplace, offers a cost-effective option for cloud bursting and disaster recovery."
Terry Wise, AWS worldwide partner ecosystem VP, was pretty pleased in his canned quote, and why not: "These next generation storage solutions are the result of a deep collaboration between AWS and NetApp and give customers a flexible, cost-effective and easy path to migrate on-premise resources to AWS."
NetApp puts these three announcements in the context of its DataFabric concept, with Data ONTAP providing a single data access and management infrastructure or abstraction layer across on-premises cloud and public cloud IT deployments, being convinced that such a hybrid cloud model is the inevitable and best result of current IT trends. ®