It's the EU and me against the world – Euro digi-chief
Union needs data protection, copyright laws, says Oetti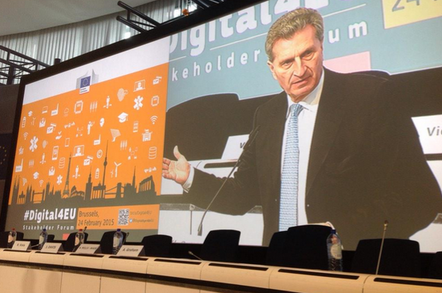 Europe must stick together or the US will suck out our brains data; so warned Europe's digi chief Gunther H-dot Oettinger on Tuesday.
Speaking at the European Commission's big flagship Digital4EU event, he reiterated the importance of the proposed Data Protection Regulation.
Referring to Google and Facebook, Oetti said: "They will go to the member states where data protection is least developed, they will hoover up our data, transfer it to California and sell it as a service."
"But if they are going to do business, in Europe they are going to have to abide by our rules," he said. But although his ire seemed mainly aimed at the US giants, China got a token mention.
He did accept that there are "those who don't want 'More Brussels' or more EU rules". But "they need to remember that without the EU, in the digital sector we're going to lose out", said the Digital Commissioner.
He also echoed Digi-Veep Andrus Ansip's regular refrain that geo-blocking is bad... primarily because it stops people watching football.
The 20-minute speech was short on substance, instead taking a whistle-stop tour through human history, touching on religion, the printing press, Ford motors and football, but Oettinger did once again promise to produce proposals for a new EU-wide copyright law in the summer.
And if you want to give your input, never fear, Oetti is ready and willing to hear all your comments during a one-hour Twitterchat on Thursday. Use the hashtag #AskOettinger. Go on. Make it a hard one. ®