What exchange rate blues? Our storage revs have grown – HP
Don't know what the rest of you are doing, but...
Comment Despite lousy dollar exchange rates, HP storage revenues are climbing – unlike those of NetApp, which fingered those same exchange rates as the cause of its woes.
In its first fiscal 2015 quarter HP's revenue was $26.84bn, down 5 per cent on an annual compare, with net income of $1.37bn, down 4 per cent from a year ago. So far, so gloomy.
Within its Enterprise group's $7bn share of the revenues – 25 per cent of HP's total revenues and flat on the annual compare – storage counted for 12 per cent at $837m.
This was a tiny 0.4 per up on the year ago's $834m. It's a tiny little increase, but it is storage revenue growth (whoopee!) and that has recently been rarer than rocking horse ordure.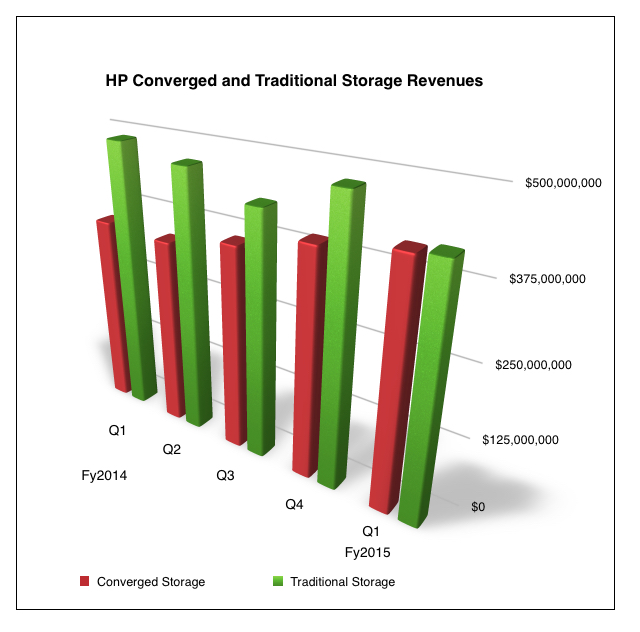 Within that $834m, old style storage products (such as EVA) counted for $421m, down 14 per cent, while newer converged storage (3PAR and the like) grew to $416m, up 21 per cent on the year. The chart above shows the changing fortunes of the two kinds of storage product.
Stifel MD Aaron Rakers said HP didn't reveal how well 3PAR StoreServ did on its own, but "management noted all-flash 3PAR revenue accounted for 20 per cent of 3PAR mid-range storage revenue".
Be warned; one swallow does not make a summer, but this storage growth result came despite lousy exchange rates and included a January period which caused distress to NetApp's results. StoreServ is serving HP very well indeed. ®