Say cheese! Europe's antitrust chief has Google boss in her sights – reports
Schmidt meeting Competition Commissioner soon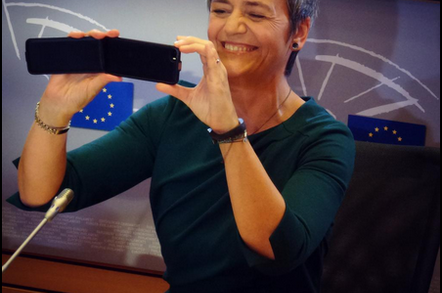 If reports are to be believed, Google big boy Eric Schmidt is to meet Europe's new competition chief for the first time soon, in an effort to sort out the long-running court case against the Chocolate Factory and avoid a possibly substantial fine.
Reuters has quoted "sources" saying the antitrust boss would meet with Schmidt after meeting with several complainants in the case against the search giant.
However, Google's CEO may find avoiding such a fine a bit more difficult with Commissioner Margrethe Vestager than was the case with her predecessor, Joaquin Almunia, from whom she took over in November last year. When Almunia departed, the case against Google was still unresolved, despite many years of negotiations.
Google is accused of giving preference to its own services, scraping news sites and imposing anti-competitive terms on advertisers. Google promised to cease the latter two activities early on in negotiations.
However, the issue of search and how links to rival services could be displayed proved trickier. The search giant submitted three versions of remedies to Almunia to put right accusations of abusing its dominant position.
Almunia had been seemingly keen to reach a so-called Article 9 agreement – under which the Commission can accept a set of commitments from a company to resolve a complaint which then become legally binding – rather than issue a fine or other punitive measures. This put him in line for a lot of criticism from its search rivals.
Vestager has not said whether she wants to continue this approach or to proceed directly to punitive measures – theoretically, she could fine the ad monster up to 10 per cent of its global turnover.
At her approval hearing in October, Vestager described the investigations into Google as "multifaceted and complex" and said she would not be rushed into a decision.
"The sheer amount of data controlled by Google gives rise to a series of societal challenges. Privacy is one of the most pressing concerns. Media pluralism is another. Not all of these challenges are primarily economic in nature and not all of them are competition related," she said.
Meanwhile, in a completely unenforceable symbolic gesture in November, the European Parliament voted to "unbundle search engines from commercial services", aka "break up Google"... much to many people's amusement.
Given that it has no power to do anything itself, its aim was clearly to put pressure on Vestager. Next week she will likely find herself under pressure from the opposite side as Schmidt puts forward his case.
The Commission refused to comment on the news, but said that all Commissioners' meetings are published the Friday prior to engagements. Watch this space for more updates. ®
Sponsored: Detecting cyber attacks as a small to medium business