Prawn cocktail offers hot new way to make solar cells
Why shell out for expensive Ruthenium when chitin can cook without gas?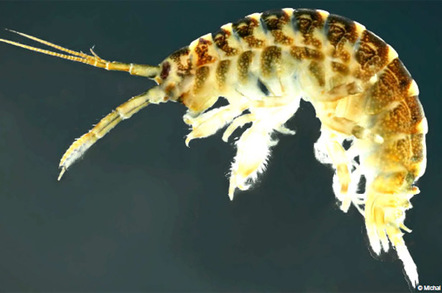 Wrap your laughing gear around this: researchers from Queen Mary University of London (QMUL) have discovered that materials from shrimp/prawns can replace expensive elements in solar cells.
The boffins working on nano-structured solar cells found that chitin and chitosan can make the quantum dots that are coated onto structures like zinc oxide nanorods to create solar cells.
Currently, a platinum-group element called ruthenium fills that role, but it's expensive; the chitin/chitosan molecules are cheap, but so far, the researchers say, their early-development cells are of relatively low efficiency.
Both chitin and chitosan are already produced on an industrial scale, so the QMUL group believes it'll be worth working on the materials' efficiency.
"Once we've improved their efficiency they could be used anywhere that solar cells are used now, particularly to charge the kinds of devices people carry with them every day", says researcher Dr John Briscoe in the university's canned release.
Briscoe's team used hydrothermal carbonisation to turn the compounds into carbon quantum dots (CQDs), then coated these onto the nanorods.
Quantum dots are a popular photovoltaic research area, because they can release more energy via excitons (electron-hole pairs) than normal PV cells.
Making them out of organic materials is even more attractive, even if research is at a relatively early stage: chitin and chitosan are organic by-products that QMUL professor Magdalena Titirici says mean sustainable materials "can be high-tech and low-cost".
The research will be published in an upcoming issue of Angewandte Chemie International Edition. ®
Sponsored: Detecting cyber attacks as a small to medium business