HP Split: Naming the big dogs for new-look giant
HP Inc EMEA run by Herbert Koeck, HPE by Peter Ryan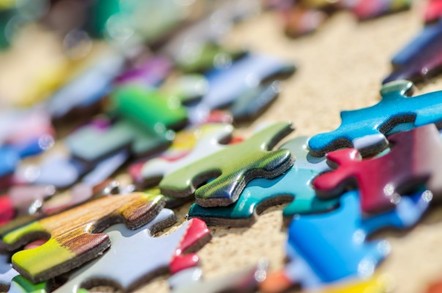 Exclusive More pieces of HP's management puzzle are being slotted into place at a country and regional level, ahead of the major split in the corporation planned for October.
As world + dog knows, the PC and print businesses are to separate from the rest of the organisation to create HP Inc, with all other divisions falling under Hewlett Packard Enterprise.
The biggest of global cheeses were told where they'll fit in the two organisations some months back and the next layer was revealed to staff last night.
El Chan caught sight of these and can confirm there are no major surprises: HP Inc and HPE in EMEA will be run by Herbert Köck and Peter Ryan respectively.
HP Inc in the UK & Ireland will be headed by current local Printing and Personal Systems chief George Brasher, and Andy Isherwood, who runs the Brit biz for the firm, will run HPE.
The split, by its very nature, will likely cause upheaval but the company is trying to minimise the impact on customers during the de-merger. Channel types want a slick execution and no naval gazing, as management get to grips with the new organ.
Following a similar pattern of continuity to the UK, the glorious leader of HP's DACH region Heiko Meyer will run HPE, and current ruler of PPS Jochen Erlach will manage the PC and print firm.
The corporate divorce between the divisions is set to be completed by the end of HP's current fiscal ending October, and is something of a U-turn on previous claims by CEO Meg Whitman that the company was better off staying together.
Whitman said the balance sheet was stronger, financial results had improved and the company could be more "agile" operating as two entities.
Brian Alexander, director of technology research at Raymond James, put out a note to investors yesterday, saying:
"We still contend that the decision to split the company, while reasonable, was made defensively and reflects management's concession that there are few alternative to decidedly drive shareholder value".
He said that notwithstanding the split "fundamental concerns" were the "decelerating PC growth", bold server competition from Lenovo, "operating challenges" in China, peak margins in printing, high exposure to weakening currencies and "sluggish services bookings".
"End market growth should remain lacklustre and we are not enthralled with HP's strategic position in high growth markets (security, analytics, big data and cloud). Until we can evaluate HP's M&A decisions, it is difficult to get excited about the stock."
The management teams in EMEA:
HP Inc Jochen Erlach – Germany, Austria, Switzerland (DACH); Luciana Broggi – Benelux & Nordic; Eric Lallier – Central & Eastern Europe (CEE); Andre Bodson – Middle East, Mediterranean & Africa (MEMA); George Brasher – United Kingdom & Ireland; Pascale Dumas – France; Helena Herrero – Iberia; and Santino Canegrati – Italy
HP Enterprise Gerald Karsenti – France; Heiko Meyer – Germany; Stefano Venturi – Italy; Andy Isherwood – United Kingdom & Ireland; Jose Maria de la Torre – Iberia; Hans Daniels – General Western Europe (GWE); Johannes Koch – acting lead for Central, Eastern Europe & Israel (CEE&I); and Alaa AlShimy – Middle East, Mediterranean & Africa (MEMA)
HP refused to comment. ®
Sponsored: Minds Mastering Machines - Call for papers now open