UGH... opposable thumbs are so tiresome! Why not mount your iPhone on your face?
Blinded by the Bytes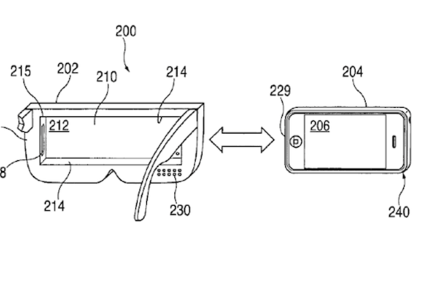 Tired of having to move your arm slightly and make a tedious grabbing action each and every time you pick up your iPhone? Apple has the answer: a wireless display that enables you to mount your device on your face, according to a recently discovered patent.
Apple filed the patent for a "head-mounted display system" to "allow users to couple and decouple a portable electronic device with a head-mounted device."
Because a wired connection may "be inconvenient and cumbersome" there is a need for an "improved head-mounted display system, particularly a system that temporarily integrates or merges... a head-mounted device with a portable electronic device", Cupertino postulated.
The patent includes a remote control to allow users to scroll through content on their screen while eyeballing their phones via the headset.
Reports suggest the patent could indicate a move by Apple to eventually follow Google Cardboard and Samsung's Gear VR into the virtual reality market.
However, the recently discovered patent (originally filed in 2008) makes no explicit reference to virtual reality.
Instead it appears to indicate that the head-mounted device will benefit users by utilising the display of the portable electronic device "as the primary display for displaying media".
And haters say Cupertino has run out of ideas... ®
Sponsored: Beyond the Data Frontier