Big Blue drops a billion dollars to refresh its pig herd's lipstick
Renaming the product line doesn't make it new
Comment Confirming earlier leaks, IBM has decided storage needs to be sold under the software-defined rubric and has given various existing products a Spectrum wash and brush-up; like green-wash but think software-defined.
It also plans to invest more than $1bn in its storage software portfolio over the next five years.
IBM Systems SVP Tom Rosamilia claims: "IBM is revolutionising storage with our Spectrum Storage software."
Yes, he really said that. Ignore Axcient, Atlantis, Avere, Nssuni, Nutanix, Maxta, PernixData, Pure Storage, Simplivity … Zerto and all the rest. They are nobodies compared to Big Blue.
Big Blue burbles on: "Spectrum Storage incorporates more than 700 patents and is designed to help clients transform to a hybrid cloud business model by managing massive amounts of data where they want it, how they want it, in a fast and easy manner from a single dashboard."
The billion bucks will go into research and development of new cloud storage software, object storage and open standard technologies including OpenStack.
The Spectrum Storage portfolio "can centrally manage more than 300 different storage devices and yottabytes of data. This device interoperability is the broadest in the industry … [it] can help reduce storage costs up to 90 per cent in certain environments by automatically moving data onto the most economical storage device – either from IBM or non-IBM flash, disk and tape systems."
Products include:-
Spectrum Accelerate – XIV array software sold on its own and using commodity hardware
Spectrum Archive - basically the LTFS tape file system
Spectrum Scale - replaces the short-lived "Elastic Storage" rebranding of GPFS
Spectrum Virtualise - otherwise called SAN Volume Controller (SVC) - which is hardware-based
The IBM-provided follow-up links in its release were a shambles; there was no information on Spectrum Archive, Spectrum Control or Spectrum Virtualise when we looked at the URLs. Instead we were redirected to other pages.
To access Spectrum Protect information you have to register and get a password sent to you by email. Overkill, surely? It's bound to be Tivoli Storage Manager backup and FlashCopy stuff – which, by the way, you can find here.
IBM's latest release continues: "The functionality of IBM Spectrum Control is provided by IBM Data and Storage Management Solutions." This means SmartCloud Virtual Storage Centre. There's more than one product and you can find more details here.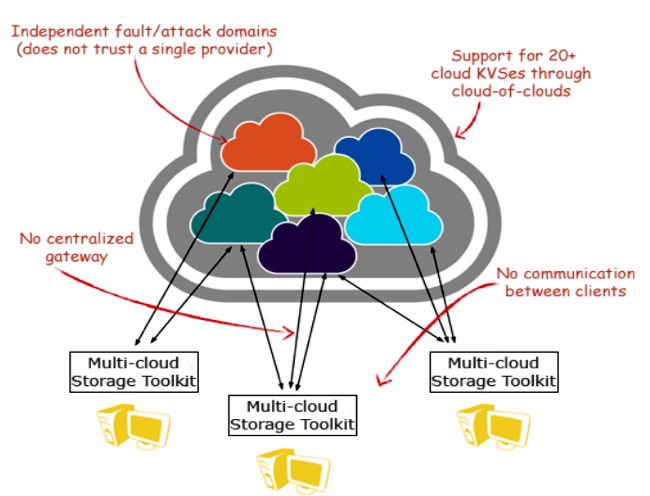 IBM's multi-cloud storage toolkit concept
IBM intends to introduce a multi-cloud connecter as a software feature in Spectrum Storage later this year. It involves a cloud-of-clouds concept with replication between clouds for dynamic data migration
All-in-all this Spectrum Storage guff is just a marketing skin slapped over existing products to make them seem part of a single and coherent family. They are far from that yet, and this lipstick-smearing exercise is, for the moment, a fairly shallow attempt to dress up a very mixed herd of pigs.
The only new meat here is Spectrum Accelerate, the XIV software. IBM says it is "easy to acquire, license and install; offers a flexible licensing model designed to mesh short- and longer-term budget realities and is delivered via download from [its]the Passport Advantage web site." ®
Sponsored: Becoming a Pragmatic Security Leader