Apple 'hires' the 'A-Team' from car titans, they DO SAY: Let's modify the 'van'!
Love it when a rumour comes together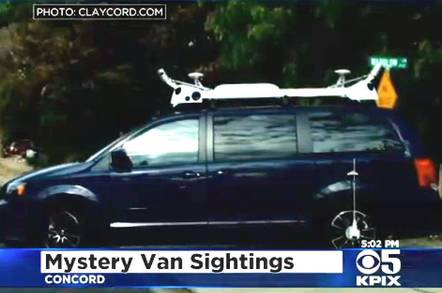 Apple has apparently shanghaied experts from the automotive industry for a super-secret project or two that no one really knows anything about.
CEO Tim Cook and bling-master Sir Jony Ive have been meeting – and trying to hire – eggheads at Mercedes-Benz and other manufacturers to help develop an Apple "automotive product," it's claimed. This may or may not be a full-blown car, but whatever it is, it's something "beyond the dashboard."
The brainiacs are beavering away in Silicon Valley, but someplace nowhere near the iGiant's Cupertino campus, we're told.
If moneybags Apple is indeed hoovering up auto experts, as the Financial Times reported, it screams of a growing tech-on-wheels war in Silicon Valley – what with Google trying to convince the world it's doing more than just web search, web ads and an Android app store.
Earlier this month, a mystery van was spotted in California, and its lease was tracked back to Apple. It is not known whether the jalopy – equipped with external cameras and sensors – was part of a street mapping operation or a prototype for an autonomous vehicle.
The sighting marries up with the Wall Street Journal's claims on Friday that Apple has "hundreds" of people working on an electric minivan project codenamed Titan. The WSJ admits this hush-hush project could lead to nothing (ie: don't blame us if these rumors turn out to be garbage).
They promised us flying cars, but instead we got rumors about an electric minivan in 140 characters.

— Matt Rosoff (@MattRosoff) February 14, 2015
Meanwhile, Cupertino staff are jumping ship to Tesla, it's claimed. Reports surfaced last week that billionaire Elon Musk's 'leccy car biz had lured away upwards of 150 Apple employees. ®
Bootnote
Cook announced Friday that Apple was stepping up its efforts to expand Apple Pay. The company said the US federal government would accept Apple Pay for transactions such as entrance to National Parks.
Sponsored: Becoming a Pragmatic Security Leader