Reg hacks (and rest of 'Frisco) in LinkedIn measles contagion scare
First the healthcare insurer gets hacked, now disease is spreading on BART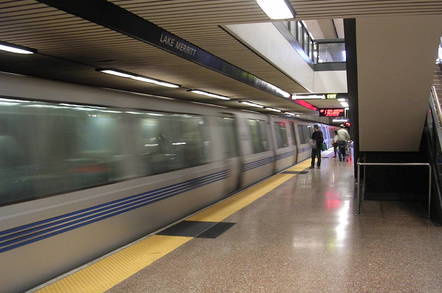 LinkedIn has been linked to a measles scare in the San Francisco Bay Area.
An employee of the network-for-suits has come down with the (preventable) disease, and could have exposed thousands riding on the city's subway system.
Officials at the Bay Area Rapid Transit (BART) service have confirmed that a passenger riding the Pittsburg/Bay Point-San Francisco International Airport line last week has come down with measles – and could have exposed other riders between February 4 and 6.
The infected LinkedIn employee, of Contra Costa County, is said to have boarded the train at Lafayette Station and exited at Montgomery Street station, a major San Francisco thoroughfare.
In addition to walking through the BART system and going into the LinkedIn offices on Montgomery and Market – one block from El Reg's West Coast bureau – the person was said to have visited the E&O Kitchen and Bar restaurant on Sutter in downtown San Francisco.
"The health and well-being of our employees is our absolute top priority, and we will take whatever steps are advised to ensure their safety and the safety of the general public," a LinkedIn spokesman said in a statement to the press, after learning of its worker's measles diagnosis on Tuesday this week.
Because the virus can remain airborne for up to two hours, people on other lines and stops could have been exposed. BART administrators are warning riders to be on the lookout for signs of infection and check their immunization records for vaccination.
"Measles is highly contagious and highly preventable through vaccinations. We are urging caution to individuals who are not vaccinated, especially infants under 12 months," said Dr Gil Chavez of the California Department of Public Health.
"Any place where large numbers of people congregate and there are a number of international visitors, like airports, shopping malls and tourist attractions, you may be more likely to find measles, which should be considered if you are not vaccinated."
Those who are vaccinated for measles are considered immune, though there is a 1 to 5 per cent chance an immunized person could contract measles. Those born before 1957 are also considered to be immune through exposure.
California is in the midst of a large measles outbreak. The disease was spotted amongst tourists at Disneyland and has since spread across the state. Children under the age of one, and youngsters with idiots parents who chose not to vaccinate, are considered to be at risk for measles and the potentially life-threatening effects of the disease.
There are 16 other states with a bit of a measles problem – mostly linked to people returning home after visiting the aforementioned theme park. ®
Further reading: How do vaccines cause autism?
Sponsored: Becoming a Pragmatic Security Leader