Insight Enterprises grits teeth as cloudy payoff remains elusive
Q4 numbers hit by Microsoft license fee cuts and currency headwind, says CEO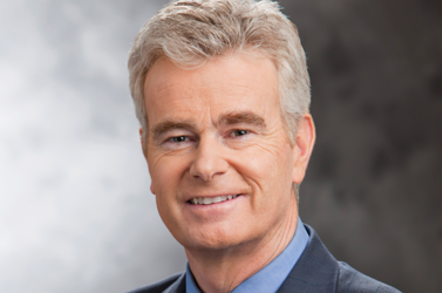 A biting currency headwind and Microsoft licensing fee changes slapped Insight Enterprises' respective top and bottom lines in calendar Q4 as it waited for services investments to pay dividends.
The global reseller last night reported revenues of $1.45bn for the quarter, up four per cent year-on-year – but it could have been higher if the pesky US dollar wasn't coming on strong against the pound and the Euro.
Save for more effective hedging there's not much tech firms can do about the currency conundrum, except to maybe raise their prices – as a bunch of vendors did recently.
CEO Ken Lamneck preferred to focus on the positives in a conference call last night, saying revenue growth reflected "investments in sales, technical and services headcount in the North America and EMEA businesses."
The business added 160 "teammates" in software and services in key vertical markets, and field sales in "core" geographies.
In North America, net sales hit $1bn for the first time, being up six per cent year-on-year thanks to "solid" trade in hardware, software and services. These were up by three per cent, 11 per cent and 18 per cent respectively. It reported double-digit climbs in notebooks, desktops, and servers, the latter caused by WinServer 2003 reaching its end-of-life point in July.
Software demand was still about business productivity wares and virtualisation for large enterprise and public sector punters. Services, which still only accounts for six per cent of sales output in North America, was based around "consulting and technical service engagements.
Operating profit in the territory was down seven per cent to $29.1m due to "previously announced programme changes in the software category" and the effect of adding heads to the sales organ.
Microsoft warned enterprise licensing partners about the changes in 2013 but these were so significant that the impact still lingers, swiping up to $14m in gross profit from Insight last year alone, albeit better than the $20m drop the reseller forecast.
The fee reductions will hit this year by between $5m to $10m but are estimated to be less impactful in 2016, the company claimed.
Overseas operations did better than the reported numbers suggest: sales in EMEA and Asia Pacific decreased two per cent and three per cent to $391.5m and $53.2m. But excluding the unfavourable currency movements, sales in EMEA and Asia Pacific expanded six and four per cent respectively.
"Controlled expenses" helped Insight post EMEA operating profit of $3.94m in the quarter, up four times on a year ago, but the figure was also boosted by "strong" hardware shipments to mid-market and public sector clients, and higher software sales to large biz, the firm said.
Hardware represented 60 per cent of turnover in EMEA, while software accounted for 34 per cent and services some two per cent – the latter unchanged compared to a year ago despite 22 per cent growth, showing the base remains tiny.
Insight is parting with EMEA cloud director Ash Patel, who left following a restructure across the region, snubbing a global cloud lead role to take on a senior job at Brit biz Cobweb Solutions.
The UK, Netherlands and Italy were set aside for special mention, in a good way on this occasion.
"We executed very well in EMEA to offset the effect of partner program changes in the software category to increase focus on program execution and deal profitability," said the CEO.
In Asia Pacific, operating profit was down 44 per cent to $2.06m and here Insight said it was unable to mitigate the Microsoft fee changes as effectively as in other regions, and saw less business with large clients.
At group level, the headcount additions, fee changes and severance and restructuring costs – the majority of which came from EMEA – brought down operating profit by two per cent to $35.1m. Net earnings were down five per cent to $19.4m.
For the year, group sales grew three per cent to $5.3bn, up three per cent in North America, up five per cent in EMEA and up four per cent in EMEA. Operating profit was up eight per cent to $131. and net profit was up seven per cent to $75.6m.
Looking ahead, Lamneck said analyst are predicting low single digit growth in hardware for 2015, mid-single digit growth in software and services. He said Insight is planning to outpace those:
"However, given recent weakness in major global currencies against the US dollar, we expect that our reported growth in US dollars will be in the low single-digits," he said.
More money will be invested in software services and cloud speciality sales teams on both sides of the pond to build the portfolio, while continuing to spin the plates of its old world tech business.
Of course, the Windows Server 2003 refresh will be a "significant" part of this year too, said Lamneck,
The business largely resells cloud services in Europe, but is more developed in the US. The CEO said it will work with vendors and service delivery partners to provide additional license optimisation, cloud assessment and deployment services and remote collaboration.
"This is the first phase of a multi-year initiative to bring value-added services offerings to clients in the [EMEA] region," said Lamneck. ®
Sponsored: Minds Mastering Machines - Call for papers now open