Quantum stuffs disks in a StorNext box, says: Go ahead – stick a 4K in it
4K and 8K workloads? Bring it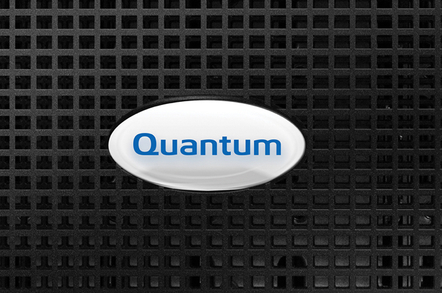 Quantum, having obtained fast file access for its video workflow customers with StorNext metadata controllers, now needs to keep on giving them gobs and gobs of online file capacity as workloads get bigger and bigger.
Users in the media and entertainment business are coping with 4K and 8K video workflows with projects involving multiple files as they start production and move into post-production. Screen resolutions get larger, video camera output files soar in size and workstation file capacity needs are ballooning outwards.
File storage needs in geospatial imaging, video surveillance and seismic research and analysis, which are also StorNet markets, are said to be growing as well.
The metadata controllers give users fast access to files in a huge namespace and then it's a case of storing and feeding the file data to users for the best price and performance.
Quantum has announced a new and denser drive enclosure, the QXS-56600, which does that. Having 336TB from 56 X 6TB disk drives in 4U gives the QXS-5600 product a great density and it's the lowest $/TB offering from Quantum for StorNext users.
The StorNext primary drive array range looks like this:
QXS-1200 - 2U chassis - 12 x 4TB HDD, 8 chassis/array = 384TB
QXS-2400 - 2U chassis - 24 x 1.2TB HDD, 8 chassis/array = 230.4TB
QXS-5600 - 4U chassis - 56 x 6TB HDD, 4 chassis/array = 1.344PB
QD7000 - 4U chassis - 60 x 4TB HDD, 6 chassis/array = 1.44PB
The QXS-5600 with 86TB/U has a better density (TB/U) than the QD7000's 60TB/U, says the firm.
Naturally, with 8TB and 10TB drives coming, we can realistically hope that Quantum upgrades StorNext QXS systems to boost capacity in proportion, up towards 1.8PB and 2.24PB/array.
The next massive step, revolutionary rather than evolutionary like HDD capacity increases, would require something entirely dramatic, such as an entirely solid-state system for primary StorNext storage. That, for now, is just out of sight, but some time, the other side of 2020, say ... who knows? ®
Sponsored: Detecting cyber attacks as a small to medium business