HISTORIC HOVER-ROCKET takeoff held up by 'SLEDGEHAMMER' winds
Dragon podule down and safe though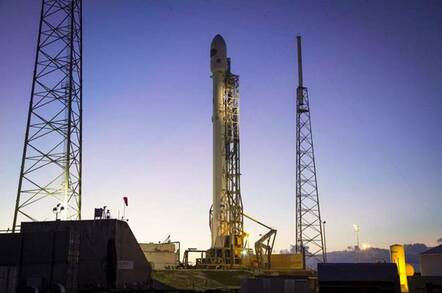 Updated It's third time unlucky for SpaceX – today's launch of its reusable Falcon 9 rocket was scrubbed at the last minute due to bad weather.
Winds in the upper atmosphere were ruled too strong, with gusts exceeding safety limits by 151 per cent. Elon Musk expressed concern about the conditions early on Tuesday but wind speeds failed to slow.
Extreme wind shear over Cape Canaveral. Feels like a sledgehammer when supersonic in the vertical. Hoping it changes …

— Elon Musk (@elonmusk) February 10, 2015
The next launch attempt will be made from Cape Canaveral at 6:03pm EST on Wednesday. SpaceX is keen to get going on this mission. It could be the first time the reusable Falcon 9 rocket system carries a payload beyond low-Earth orbit and into space proper.
The rocket will carry the DSCOVR solar-storm warning satellite out of our gravity well, and set it on its way to its position 1,500,000km (930,000 miles) from Earth. SpaceX had also hoped to land the first stage of the rocket on its floating landing pad, dubbed Read the Instructions as an homage to the late, great sci-fi author Iain M. Banks.
However, Elon's Musketeers will still have things to do today, Tuesday. At about 4.45pm Pacific Time the Dragon capsule that SpaceX delivered to the International Space Station is due to splash down in the Pacific Ocean bearing a cargo of scientific experiments, equipment for servicing, and plain old-fashioned trash.
The Dragon capsule successfully disengaged from the ISS on Tuesday morning and is now falling to our planet's surface, ready to open its parachutes to slow its descent. Ships are available to pick it up at its expected splash-landing off the western US coast.
This could be one of the last water landings for the Dragon capsule, since plans are already afoot to equip the cargo pod with rocket engines that would allow it to touch down on Earth's soil. The final testing for this system is now ongoing and awaiting NASA's green light.
El Reg will be adding updates as soon as the Dragon capsule is in sight. ®
Updated to add at 1647 PT (0045 UTC)
SpaceX has confirmed that the Dragon capsule landed right on time at 4:45pm. Retrieval operations are now underway.
Dragon splashdown off the California coast pic.twitter.com/4Bvfmei8I3

— Elon Musk (@elonmusk) February 11, 2015
The successful mission is part five of the 12 cargo supply runs to the ISS that SpaceX has agreed to launch for NASA. SpaceX, and rival Boeing, will begin human delivery missions in 2017, allowing the US to end its embarrassing reliance on the Russians for orbital rocketry.
Meanwhile at the Cape Canaveral, the weather forecast for tomorrow's Falcon 9 launch is looking good, with about a 90 per cent chance of less windy skies.