Lugging an HPC cluster to the plane as carry-on luggage? DON'T
Young supercomputing boffins vie for cluster crown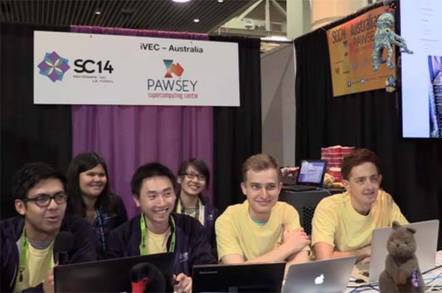 HPC Blog In our most recent article, we took a look at the US-based SC14 Student Cluster Competition university teams who are intent on keeping the SC crown firmly in the good ol' US of A.
As usual, the SC competition attracted a wide variety of student teams from around the world. At SC14, we interviewed almost all of them to give you an exclusive look at what they're bringing to the table. Let's take a look at the foreign field...
Team USTC (University of Science & Technology, China): Insiders consider USTC as one of the new elite teams on the international cluster competition circuit.
In their first competition, at ISC14, the Sugon-sponsored team beat nine other teams, many more experienced, to land a second place finish just behind Overall Champion South Africa.
As you'll see in the video, this edition of the USTC team is entirely new. You'll also see me commit an embarrassing faux paus when I mistakenly assume that the female on this USTC team is the same woman who was on the ISC14 team.
(In my defence, I've included a still picture of the woman from the ISC team for comparison sake. The two aren't completely dissimilar, that's all I'm saying.)
This year, the team is using a shiny new liquid-cooled Sugon system. According to the team, the extra thermal headroom gave them the ability to configure higher frequency parts and to run them harder too.
Team Singapore (National University of Singapore): They smiled a lot, but didn't say a whole lot. This is due to the language barrier rather than the team not wanting to engage in my tedious video projects. (I think.)
From reading Team Singapore's pre-competition architectural proposal, it's obvious that the guys didn't scribble it on cocktail napkins while swilling Singapore Slings at the Long Bar. It was one of the most data- and thought-filled proposals I've seen in years.
In the video, we talk about how the team is approaching the apps. They weren't familiar with them before the competition, but have hopefully picked up enough to make them a contender. As the video rolls, you'll hear the Siren of Doom at least once, just to break things up.
You'll also see me give the team a short pep talk about the sacrifices demanded by student cluster competitions. The team was completely nonplussed by my dramatics. Must be the language barrier, right?
Team Kraut (FAU - Germany): Back for their second appearance at a SC competition is the team from Erlangen, Germany. They're just as engaging as ever, and are looking to make some waves at SC14.
They're bringing the same personnel this year, along with the same cat pictures adorning their table, but have a new sponsor (NEC), and a renewed desire to win. In the video, we talk the differences between this year and last. (Example: "Last year we didn't know what we were doing. This year, we do.")
They also discuss why transporting a HPC cluster as carry-on luggage isn't a good idea and we touch upon why it's important to keep Germans busy and active as much of the time as possible.
Very fun team and it's great to see them back.
Team Aussie (IVEC, Australia): Team Aussie is a consortium of several universities in Australia. This is their second SC tourney, and they've brought a completely new team to the New Orleans battle.
First, I need to dispel a nasty rumor. The Aussie coach probably did not fire everyone on the 2014 team because they didn't win the competition. She's a much nicer person than that, according to, well, her.
In the video we discuss a wide range of topics with the team, including how hard it is to balance cluster competition training with their regular class work. I told them that they need to let all of the classwork go. It just gets in the way of clustering greatness.
We also see a fantastic example of the fine art of scapegoating and counter-scapegoating. It's highlighted in the video, starting around the 3:15 mark.
There's also a student on the Aussie team who is so steeped in the cluster arts that if the organisers gave him a potato, he could compile it and get some damned good results. Now that's an impressive claim, gotta love that.
We didn't get to talk to Team HUST (Huazhong University of Science and Technology, China) on this round of interviews, due to them being extremely busy when we were making our initial rounds. We also missed out on an interview with Team Taiwan (National Tsinghua University, Taiwan) due to a technical problem on our part. But we catch up with them later.
In our next set of articles, we'll be checking in with the teams mid-competition. Stay tuned... ®
Sponsored: Your Guide to Becoming Truly Data-Driven with Unrivalled Data Analytics Performance