'Tech City should not be relying on Game of Thrones ravens'
Plus: 'Anon dark web NOT a protective shield from arrest and prosecution'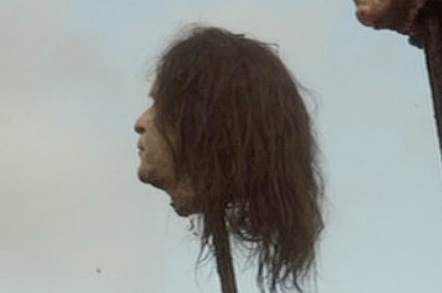 QuotW This week, we learned that sending a Game of Thrones-style raven was a quicker form of communication than connecting to the internet in Tech City – which is the beating heart of Blighty's Web2.0rhea community.
Emily Thornberry, Labour MP for Islington South and Finsbury, told fellow politicos that she was "shocked and surprised" by BT's collective shrug that it was "not commercially viable" to improve broadband access for one of a number of Tech City businesses petitioning for more reliable broadband speeds.
She said:
We cannot make Tech City one of the world's great technology centres and sow the seeds of sustainable growth, as the Prime Minister has said, when it takes nine hours to upload a 2.5-minute film. Tech City should not be relying on Game of Thrones ravens.
Thornberry told Parliament that broadband network speeds in London resembled a doughnut shape. She also questioned BT's claim that the government needed to change EU rules so it could give the former state monopoly more cash to provide better broadband to urban areas.
"Is it necessary for state aid to subsidise BT? After all, Openreach generates £5bn of revenue each year," she said.
Others might also question the wisdom of basing a "tech hub" in an area high on hipsters but low on actual connectivity in the first place. But who are we to judge?
Meanwhile, over in a Nevada court we discovered that it's not just porn stars who dress up as repairmen and pretend to fix things.
Apparently it is also perfectly legal for FBI agents to don the outfit of ISP engineers and blag their way into a suspect's home without a search warrant – as long as they tell the courts about it when they do.
Judge Leen ruled the phony repairmen ruse was an acceptable tactic to gain access to a suspect's property without seeking a search warrant first. The problem was that the Feds didn't tell the judge, who had issued the search warrant, that they had done so – so the warrant was invalid.
She said:
Excised of errors and false or misleading statements, and supplemented with material omissions, the search warrant is fatally flawed and lacks probable cause to support the search.
And, in a courtroom in Manhattan, Ross Ulbricht, the man accused of running the Silk Road online drugs souk was found guilty. Ulbricht AKA "Dread Pirate Roberts" was convicted by a New York jury on all seven counts including narcotics and money laundering conspiracies.
US Attorney Preet Bharara said the conviction sent a clear message:
The supposed anonymity of the dark web is not a protective shield from arrest and prosecution.
Meanwhile the stormy PR seas continued to rock the good ship Big Blue.
IBM workers were none too impressed that the company, which is undergoing a massive jobs cuts programme, decided to award its executives a number of big fat payouts.
An SEC filing revealed that CEO Ginny Rometty took home a bonus of $3.6m (she refused one in 2013, citing disappointment at the company's output) on top of $1.6m in wages and a $5m incentive target: a total cash wad of $10.2m.
One worker took their gripes to the Alliance@IBM blog to claim:
If there is anyone left who doubts the hypocrisy and moral bankruptcy of this company just look at the huge bonuses the execs are giving themselves and compare it to the way they are treating everyone else in the organisation.
Speaking of dealing with bad news, back in Blighty O2 denied that it had suffered a serious data breach after customers began receiving sophisticated phishing emails that appeared to have been sent by the mobile operator late last month.
It said it had not got in touch with the Information Commissioner's Office – that was, until El Reg flagged up the potential data blunder to O2.
A spokeswoman at the company told us:
Whilst there's no evidence that the information came from O2, we've notified the ICO out of courtesy.
How kind, we're sure you'll all agree ... ®
Sponsored: Becoming a Pragmatic Security Leader