Are virtualisation and the cloud SNUFFING OUT traditional backup software?
Watch out for upstarts, enterprise storage bigshots
Comment Five years ago, you might have said that Symantec, EMC and other mainstream suppliers dominated the enterprise backup market with their products – Backup Exec, Net Backup, Networker, TSM and others. But this is no longer the case.
Server virtualisation and the cloud have ripped gaping holes in the market and newer and smaller backup vendors – including Asigra, Veeam, Infrascale and more – are flooding through, growing their businesses at rates that make mainstream backup software product growth seem like trickles compared to gushing streams.
Take Veeam and its latest results, with its customer base growing at 4,000 customers/month to pass 135,000 at the end of its fiscal 2014. It won 44,000 new customers in 2014.
Think on that: 44,000 customers that did not go to Symantec or choose EMC backup products – or TSM.
Charting Veeam's revenue and customer number growth produces a curve steep enough to make traditional vendors cry. Are some of the tech titans so tuned to their existing customers that they are simply locked out of new markets?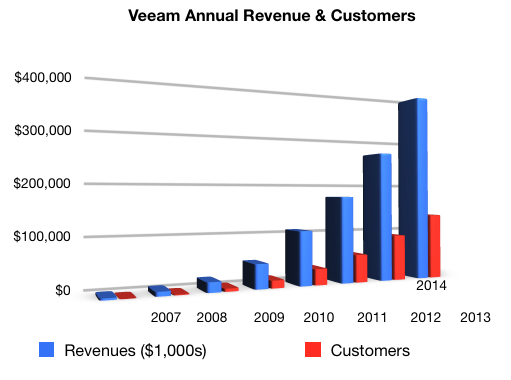 Veeam's rocketing growth. Customers are in thousands (left-hand scale minus $ sign)
There was 40 per cent revenue growth from fy2013 to fy2014, which meant the firm attained $389m. That makes it around 16 per cent of the size of Symantec's to-be-split-off Veritas business. Another 40 per cent revenue growth year will bring it to $545m.
There are also the others – Acronis, Arkeia, Asigra, Unitrends, Code42 and Infrascale, to name a few. There are so many suppliers entering and growing in the backup software and appliance market, it's hard to keep up.
Infrascale was founded in 2006 by Ken Shaw as SOS Online Backup. It received $5m private equity funding in 2011, then $3.75m A-round VC funding in 2011/2012, becoming Infrascale in mid-2012. Backing VCs pumped in another $16.3m in a 2014 B-round.
They were funding all-in-one appliance product technology providing cloud backup, file sharing, archiving and disaster recovery for end-points from virtual servers through desktops to mobile devices and sold to managed service providers as a white box offering.
Its VMware Backup is "available to MSPs and authorised resellers for a simple, all-inclusive and low monthly subscription fee. There are no per-socket, per-CPU, restore request or data transfer fees." Customers can send backup data to Infrascale's cloud storage or "any public cloud of their choice, including Amazon Web Services and Azure."
Infrascale says its sales grew 50 per cent in 2014, shades of Veeam, and the $16.3m funding enabled an acquisition of Eversync and so add a cloud-connected backup appliance offering to its product set.
It has nearly 1,000 channel partners, and 12 data centres around the globe which support around 1,000 independent cloud service companies and MSPs.
Put all these startups together – the A-to-Veeams so to speak – and the lamentable failure of the traditional backup software suppliers to meet market demand for simple, fast and secure backup appliances for safeguarding virtual server data, on-premises or to the cloud, becomes clear.
What's the collective revenue of all these startups in the backup arena? Two billion? Three billion? More? Can it really be the case that virtualisation and the cloud are set to stop traditional backup software suppliers' growth in its tracks?
Not that they'll disappear. Proprietary backup formats are one of the best forms of lock-in ever invented. ®
Sponsored: Minds Mastering Machines - Call for papers now open